2 Best Landing Page Builder Software 2023
It's easy to search the internet nowadays and stumble upon a landing page software that can help you build your online business. The problem comes along with choosing what's going to be the proper fit for you.
So to make your decision much easier, I'm going to be talking about two of the best choices currently on the market.
They have similar features.
They're both pretty simple to use.
And they even come along with a similar price tag.
Let's take a look at each of these tools and why they make such a great choice when it comes to your landing pages.
2) Kartra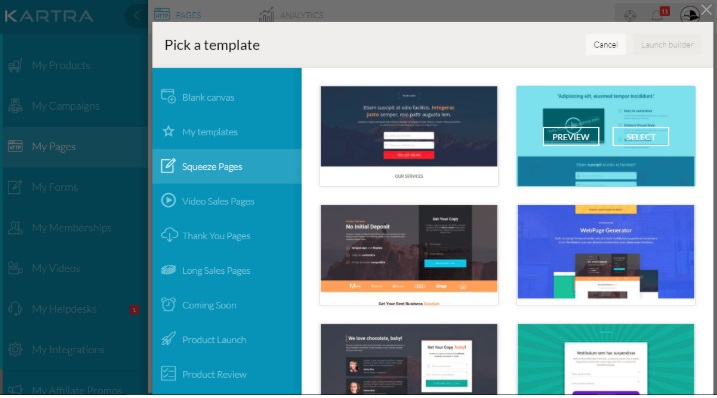 Kartra is a sales funnel and landing page builder that allows you to create, launch, and market online. Even better? You won't be needing to hire an expensive team of copywriters, developers, or designers.
Kartra is also an all-in-one platform, which means that you won't need anything else when you utilize them. So given the fact that they come along with so many features, let's take a look at some of the most popular ones.
Sales Funnels And Landing Pages
Given the fact that you get to use their smooth drag and drop builder, creating high-converting pages becomes a breeze. There are quite a few types of sales funnels that you can create as well.
These pages all come equipped with numerous amounts of templates as well as a few special perks below.
Exit pop-ups.
Video pop-ups.
Lead capture pop-ups.
Landing page pop-ups.
These are all great ways to capture attention and even generate more leads. Plus, you can even utilize your own domain so that your visitors grow to like and trust your brand even more over time.
Email And Automation
As stated previously, Kartra is an all-in-one platform which means that you won't even need to get separate email marketing software. Not only can you send out broadcasts, but you can send automated followups as well.
If that wasn't enough, Kartra features the ability to utilize fancy email automation. For example, if someone doesn't open an email? You can send it to them again. If someone doesn't purchase a product? You can also send another email to them.
The Kartra automation aspect is truly based upon behavior, and that's how you can really customize your messages and why they get sent.
The email statistics are pretty stellar, too. There's quite a few analytics that you can successfully track.
Clicks.
Opens.
Revenue.
Revenue per click.
Revenue per recipient.
If you like numbers and analytics, then it's safe to say that Kartra does a great job in that department.
Customer Support (Helpdesks)
Kartra is one of the few landing page builders that happen to include this feature. Once again, being an all-in-one platform, you won't need to be investing in alternative customer support software. It's already included within Kartra.
Whether it be through tickets, chat, or browsing frequently asked questions, there's plenty of ways to help out your customers.
Video Hosting
This is yet another feature that you'd normally have to dish out extra money for. Not with Kartra through.
Video hosting is helpful because it allows you to upload your videos on a different platform. Many times, if you upload your videos through YouTube, they can easily be shared and accessed by others.
So by uploading your videos straight to Kartra, you get much more security and peace of mind in the process. There's a limit to how much you can upload with Kartra, but you most likely won't be going over it unless you have seriously large finals.
In a nutshell, that's Kartra. They are simple, powerful, and truly live up to the popularity of being an all-in-one business builder. If you're curious to see what else Kartra has to offer, more information can be found in this IMNights blog post.
Here is one more great choice when it comes to landing page builder software.
1) ClickFunnels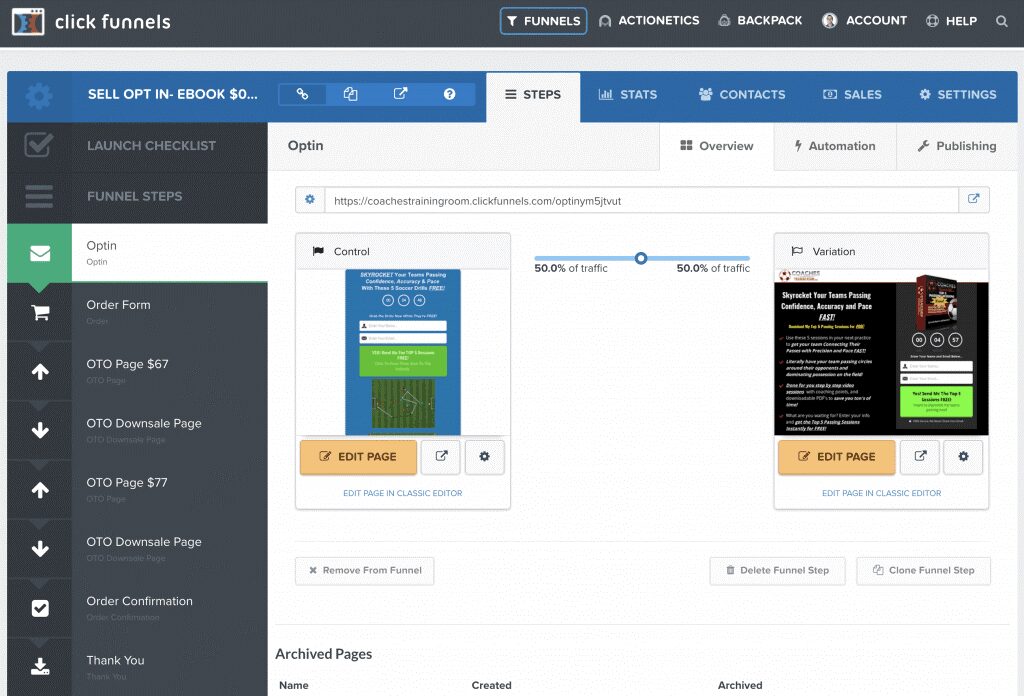 This software has been out longer than Kartra and it quickly became one of the most popular landing page and sales funnel software builders on the market. For good reason, too.
Similar to Kartra, ClickFunnels is about as simple as it gets when it comes to getting started and setting things into motion. Filled with numerous amounts of templates and an extremely smooth drag-and-drop builder, let's see what else it features.
Webinars
This is something that Kartra is lacking, and ClickFunnels does it pretty well. Within ClickFunnels, you are able to create any type of funnel that you like, and that even includes webinar funnels.
You get everything that you need in order to put together a live webinar or even an automated webinar. Here's what comes along with the webinar setup in ClickFunnels.
High-converting registration pages.
Thank-you page after someone registers.
Live webinar broadcast room.
Automated webinar broadcast room.
Replay room which is great for making more sales.
The checkout page and of course all of your download pages.
With ClickFunnels, you wouldn't need to invest in another webinar software unless you wanted to get more bells and whistles. That would be up to you, of course.
Mobile Optimize Checkout Pages
You usually have to spend a good extra amount of money to get checkout pages. When it comes to ClickFunnels, this is yet another feature that comes along with this software tool.
Checkout pages come with numerous amounts of templates and an order bump feature that will knock your sales socks off. In fact, this is one of the best (and quickest) ways to make even more sales. As always, it's easy to set up too.
Membership Areas And Pages
Have you ever wanted to protect your knowledge or content from those who didn't purchase it? This is a great reason to use the membership pages that come along with ClickFunnels.
Aside from being able to have a virtual gatekeeper when it comes to your valuable courses, you can also drip-feed your lessons as well. This is helpful so that your customers don't get information overload and they can focus on small batches of content at a time.
Conclusion
So there you have it. Those are two of the current best landing page builder software currently on the market. Given the fact that they are similar in features, usability, and even price, you just can't go wrong with using one of these two builders.