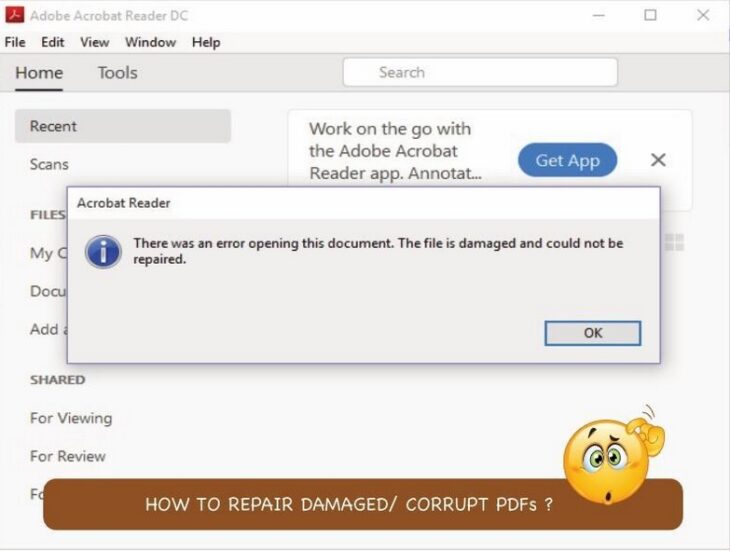 The Ultimate PDF Repair Tool for All Your Needs: Get It Now
PDF users around the world have at some point in time come face to face with the annoying error "There was an error opening this document. The file is damaged and could not be repaired." Can we do anything about it? Is there any file repair tool we can use to repair PDF documents? Yes, we can! Let's read more about it.
Part I: Why Does A PDF Get Damaged/ Corrupted?
If you know the reasons how a PDF file could get damaged/ corrupted, you can think about what to do so you don't have to repair pdf files. For tips on how to prevent a corrupted PDF, read part III further down the article. A PDF file could get corrupted for any reason, but we are listing most common ones below.
Receiving A Corrupt PDF
If someone gave you a USB drive with a PDF that was not transferred completely or sent an email to you with PDFs attached that was not uploaded completely, you will receive a corrupt, unopenable PDF for no fault of yours!
Incomplete File Transfer
Files are made up of bits and bytes. If any goes missing, the file ends up with defects and can sometimes be rendered unopenable, damaged, and corrupt. This usually happens when the file transfer was not completed.
Ejecting A Disk Drive Ungracefully
There is a reason it is called 'graceful shutdown' and 'eject safely'. When you yank the drive out from the USB port without first 'ejecting it safely' from the operating system, you run the risk of having a corrupt PDF or worse, a corrupted file system which would mean that the entire disk drive would be unusable.
Virus Attacks
A person could email you a PDF over the internal network and you would get a corrupt PDF because their system (or yours) is infected with a virus.
Disruptions During PDF Downloads
In modern internet browsers, when a file download is disrupted due to any reason, it is paused, and we can resume it later. Sometimes, this does not go as expected and a byte missing here and there can cause the entire file to become corrupt.
Part II: Repairing Corrupt PDFs with Wondershare Repairit – Your Ultimate File Repair Tool

Wondershare Repairit is the only PDF repair tool you will ever use. That's because this not only repairs PDFs, but any other file type, including audio and video files, all in just a few clicks!
– Repairit can be used on Windows/ Mac and has natively developed apps for both.
– Repairit even comes with an online app that can be accessed using any web browser.
– Repairit features legendary ease of use – a hallmark of Wondershare software.
– Repairit supports repairing nearly any file type you can think of.
Users love how easy it is to use Repairit, and for the quality of results they get with it, every time.
II.I: Using Wondershare Repairit for Repairing Corrupt/ Damaged PDFs
Download Repairit for the operating system of your choice from the Wondershare website and proceed with instructions below.
Step 1: Launch Repairit and select More Types Repair.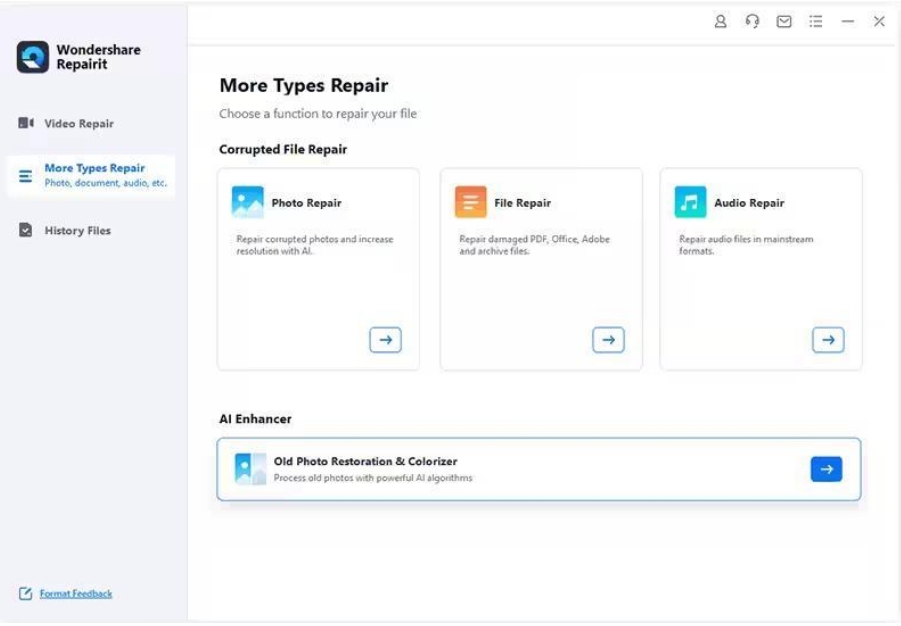 Step 2: Select File Repair listed under Corrupted File Repair.
Step 3: Use the Add button to add the corrupt and unopenable PDF files to Repairit or drap-and-drop from File Explorer or Finder.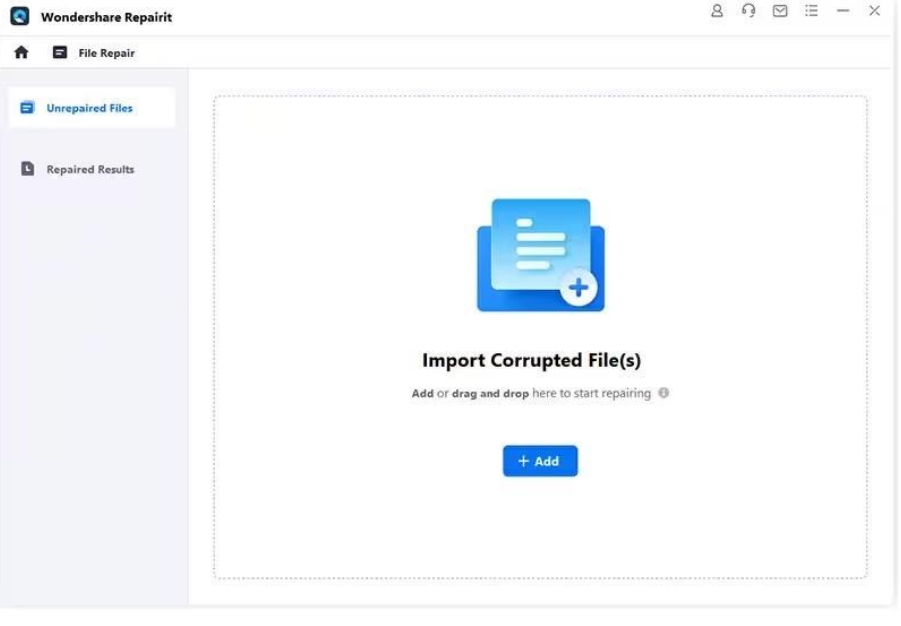 FEATURE: Batch Processing and Multi-format Support
Wondershare Repairit comes with both batch processing and multi-format support. This means that not only can you queue files for repair, but you can also queue any file format. So, you can club .docx files along with .pdf and add a few .mp3 too if you need to!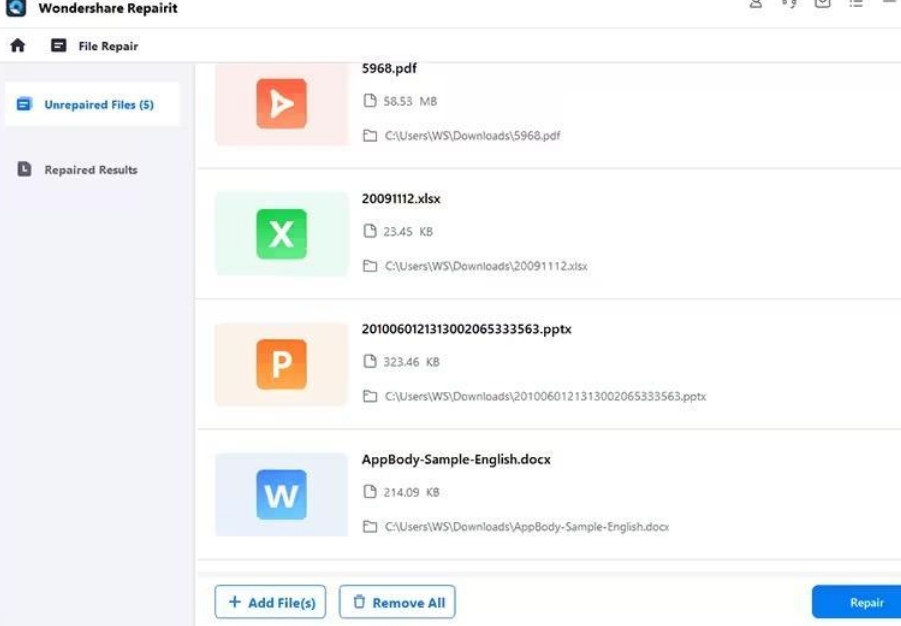 Once files are in Repairit, you can see the file details like name, size, and file location.
Step 4: Click Repair. Repair progress is displayed alongside each file. The Cancel All button allows you to stop and cancel the repair process any time.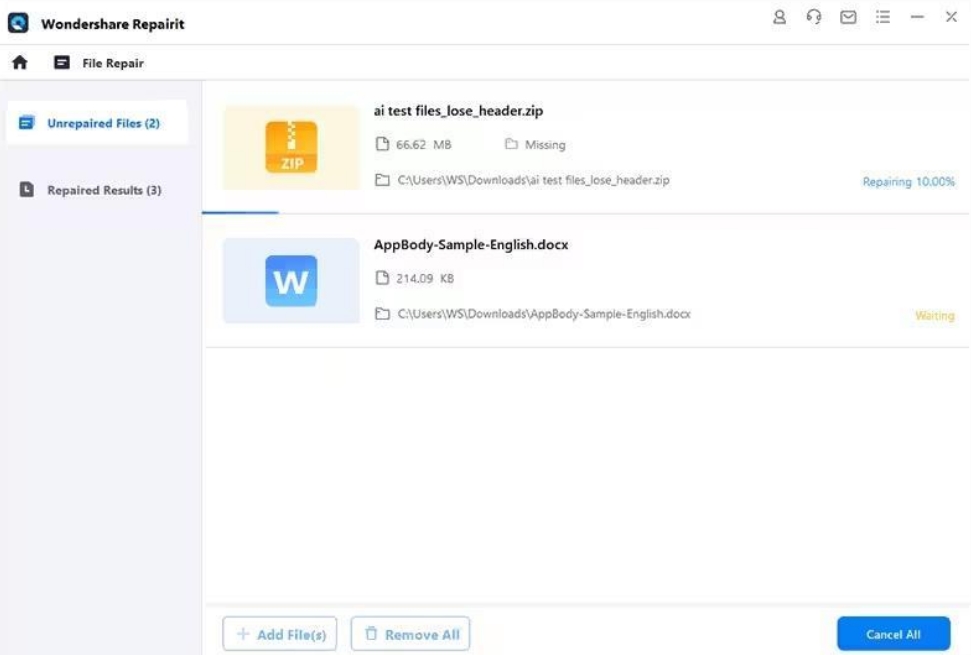 A popup notification tells you the number of files repaired successfully: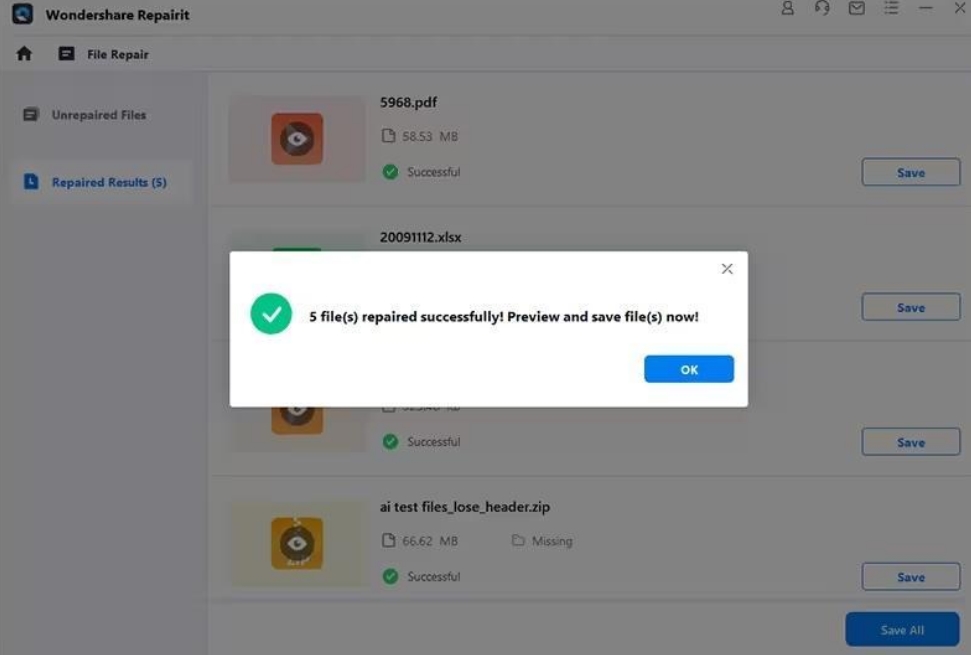 FEATURE: File Previewer
A file previewer in built into Repairit that you can access by clicking on the Preview button across each file. The Previewer is powerful enough to support nearly all file formats that can be previewed, so much so that you can use File Previewer to play full-length audio and video files!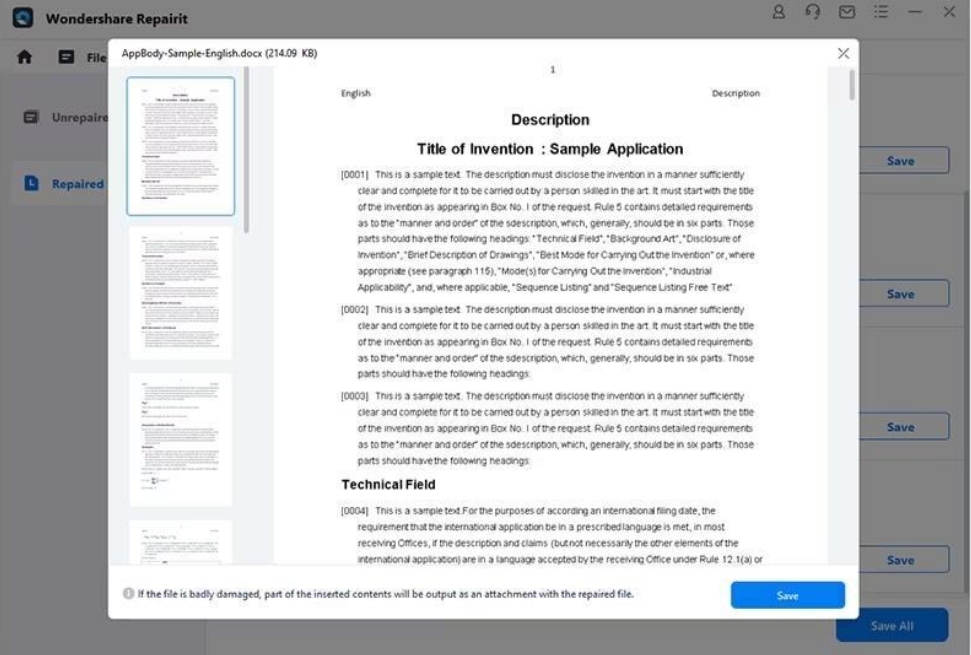 Step 5: Click Save All (or Save in File Previewer) and select where to save the repaired PDFs.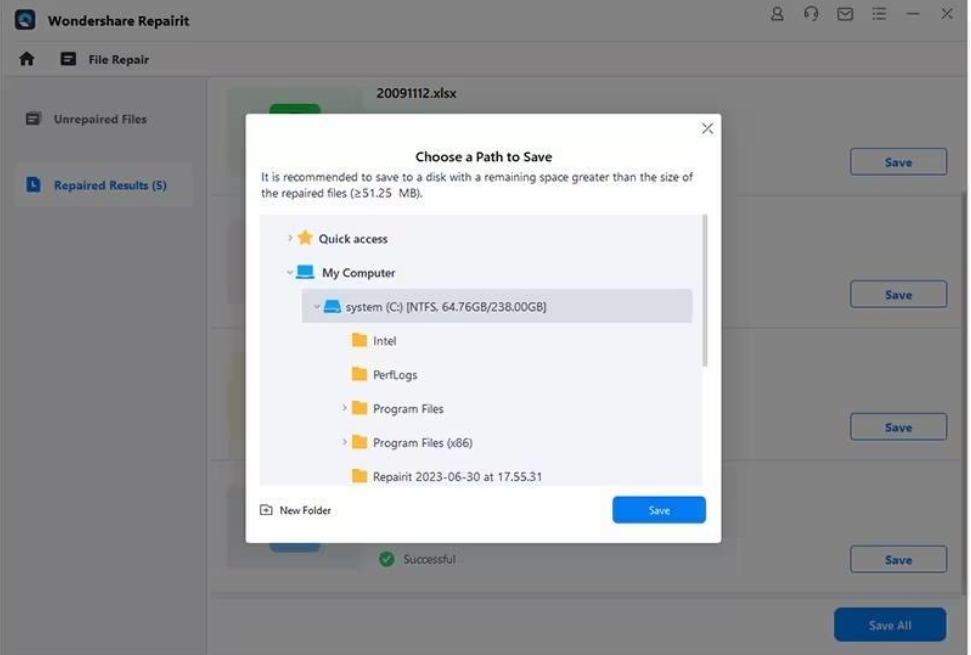 Click Save again and the repaired PDFs/ files will be saved. A notification tells you how many files were saved successfully: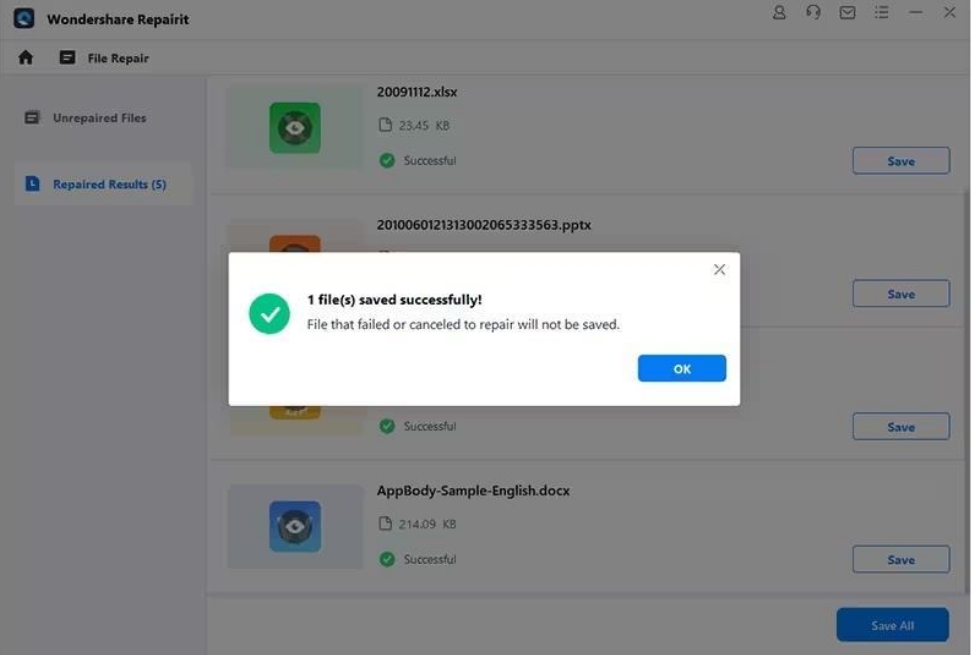 Part III: How To Avoid PDF Files From Getting Corrupted/ Damaged
Follow these tips to avoid having to repair PDFs in the future!
Tip 1: Eject The External Drive Before Removing It Physically
Use the operating system to safely eject the external drive before removing it physically from your computer or laptop to save yourself a lot of heartache attempting to repair damaged files.
Tip 2: Always Check PDF Files After Downloading/ Transferring
Always open the PDFs after downloading to your computer and/ or transferring between devices. That way, you know that the PDF has downloaded/ transferred successfully.
Tip 3: Always Shut Down the Computer Gracefully
When you shut down the computer gracefully, the operating system goes through a series of processes it must, to ensure integrity of file systems and data. When you shut down the computer arbitrarily, you run the risk of losing data in memory or even corrupting the file and file system.
Tip 4: Use Antivirus and Antimalware Programs
Antivirus and antimalware programs prevent your computer from getting infected with virus and malware you might inadvertently download from USB flash drives or the internet and destroy your files and even network drives attached to your computer at the time. A virus or malware can corrupt your files, rendering them unopenable.
Closing Words
Spend enough time working with PDF documents and you are bound to face a corrupt PDF or two. Fortunately, you can not only repair PDFs with ease using the easy-to-use and powerful multipurpose file repair tool called Wondershare Repairit that can repair PDFs as well as any other file format, but you can also decrease chances of encountering corrupt PDFs when you follow the tips given herein.