Video Slots Online to Try
It would be pretty much impossible to put together a list of every worthwhile video slot online to try. There are just too many of them, and most of them are at least good, with many falling into the great or amazing category instead. Video slots are huge fun, because not only do they incorporate the slots' gameplay as you might be expecting, but the graphics, the music, the themes, and the overall experience are all greatly enhanced.
Due to the difficulty of putting a thorough list together, we've simply listed some of the games we think most people would love. Try them out and see what you think; if you don't like them, there are plenty of others to think about. If they are your cup of tea, you'll find lots more that are similar. So enjoy and Read more and other slot games!
Gladiator
There are many different movie-themed slots to choose from. People love their films, and they feel great affection for their favorites. This means that, when developers are thinking of themes they could use that will invite many people to play, movies are right up there at the top of the list. After all, why not? The characters have already been created, and if there needs to be a plot (perhaps for the bonus game) it's right there already.
Gladiator ranks highly because, since it's made by Playtech, it's done well and it captures the excitement and enjoyment of the movie itself. You'll certainly recognize the characters used on the reels, and that's all part of the joy of playing a movie-themed slot like this.
Even if you're not a huge fan of Gladiator the film, the slot game has two fantastic bonus games to make it even more interesting for players who are in it for the game itself. The bonuses are the Gladiator Bonus and the Coliseum Bonus. When you get three wilds on the three middle reels you'll trigger the Gladiator Bonus. After it has been triggered, the game will ask you to pick from nine bronze, silver, or gold helmets. Under each helmet is a prize that ranges from 2 times your bet up to a whopping 45 times multiplier. The Coliseum Bonus is activated when you land three scatters (which look like the Coliseum) on the reels. They can land anywhere and when they do you'll get a great free spin feature to enjoy.
Texas Tea
If you prefer to play non-movie themed games, then Texas Tea might work for you. If you're expecting a game about the lovely hot beverage, you'll be disappointed though; that's not what IGT was going for when they created this video slot. It's actually about oil.
What makes Texas Tea stand out and why it makes this list is that it plays a little differently to move other slot games. Rather than the traditional three winning symbols required, in Texas Tea, it's only two. That means it's far easier, by quite a long way, to win on this game. Add to this the two special symptoms (a scatter and a bonus) and you've got quite the adventure on your hands.
There are also many different multipliers so you can end up with some truly impressive prizes when you play Texas Tea.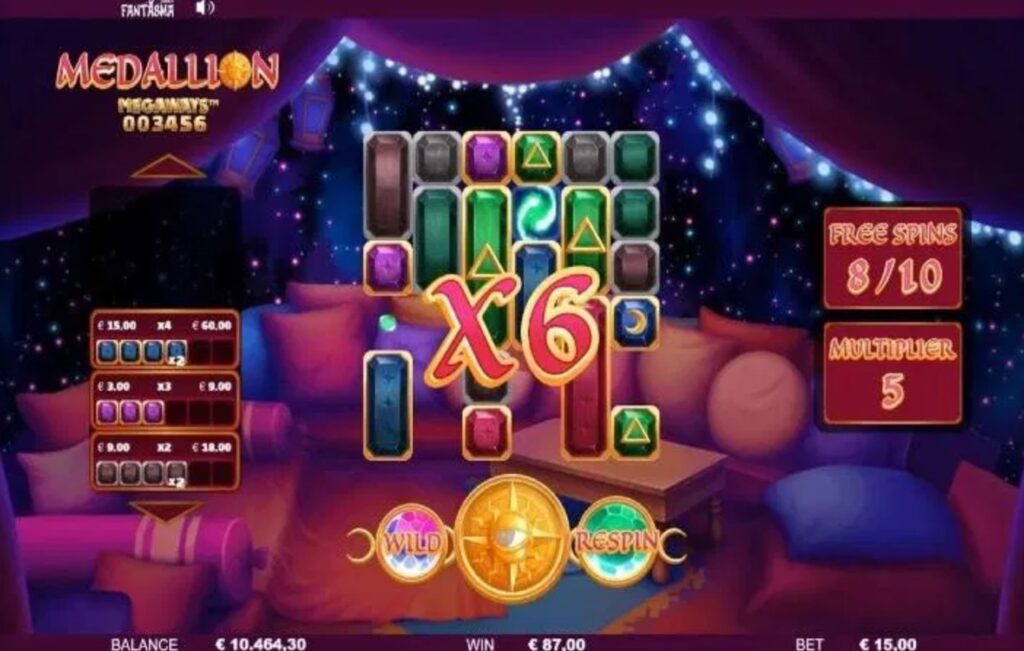 Medallion Megaways
Very specific slot and different from others. The game is set in the tent of an Arab prince and there is fun waiting for you. The game has a handful of special features, such as wildcards that will spread throughout the reel, classic online free spins, re-spin function, but also a special function of precious stones. This video slot pays from left to right and three of the same symbols are the smallest thing you have to get to make a winning combination. The winning symbols are then removed and replaced by new ones. Each consecutive winning streak will increase the multiplier by one. The medallion can appear on any spin and activate the function of precious stones. The maximum possible payout on this game can reach 23,360 times your bet! Sounds pretty good! Try this game and you will not regret it.
Starburst
Starburst slot is one of the longest-running and most popular slots released by NetEnt and can be said to be one of the classics when it comes to this company since the game was introduced back in 2012. It is an interesting slot with five rows and 10 pay lines for players who love direct play and slots without much complication.
This slot requires players to put the symbols presented as gems in the right combination to make a win. The symbols in the game, apart from the jewels in purple, blue, orange, green, and yellow, are also the week, then BAR as well as the Starburst symbol which is also a wild symbol and appears only in the second, third, and fourth rows.
In the Starburst slot, as in most others, there is an auto play option that allows players to set the slot to start automatically, so all they have to do is sit down and enjoy this game.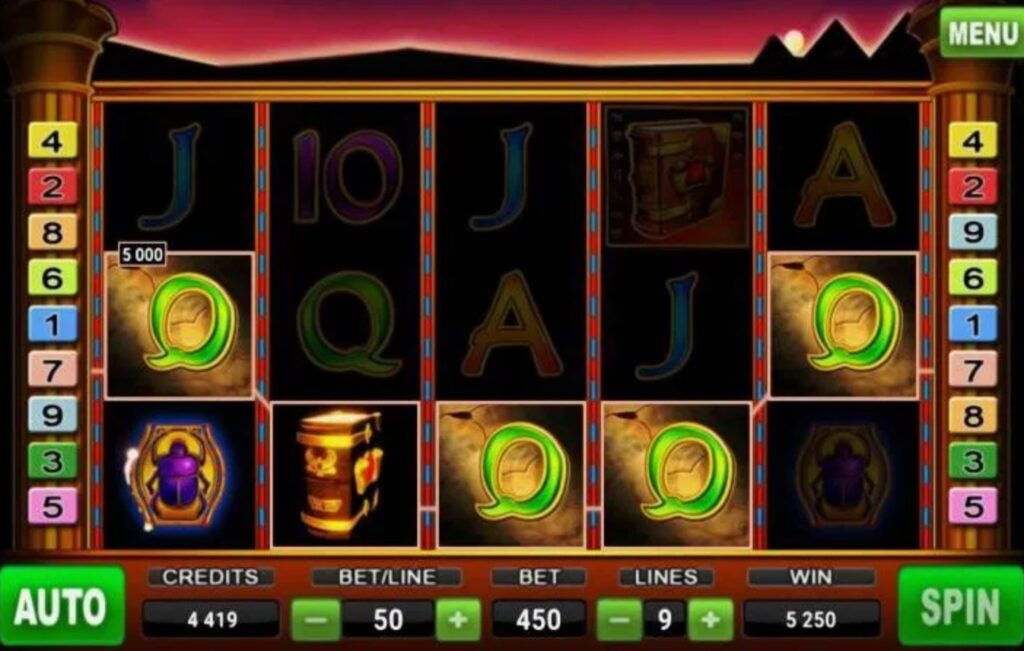 Book of Ra
Book of Ra is a slot game based on the theme of ancient Egypt, which can be deduced from its name, which is why the symbols in this slot game point to what is close to people when it comes to stories about ancient Egypt, such as the sarcophagus of Pharaoh, the book of God Ra, but also holy scarab beetles. Apart from them, there are also symbols of the letters A, J, K, and Q, number 10, as well as the famous adventurer from the popular culture of Indiana Jones. It is one of the most popular slot games, which still captures the attention of players, although it was launched in 2005.
Book of Ra is easy to play because it has very simple controls. Each player can use 1 to 9 active lines during the game, and the more they activate during the spin, the higher the chances of winning the jackpot. Like most other slot games, Book of Ra also has an auto play option so players won't have to spin the slot themselves, but can set it to work for them.