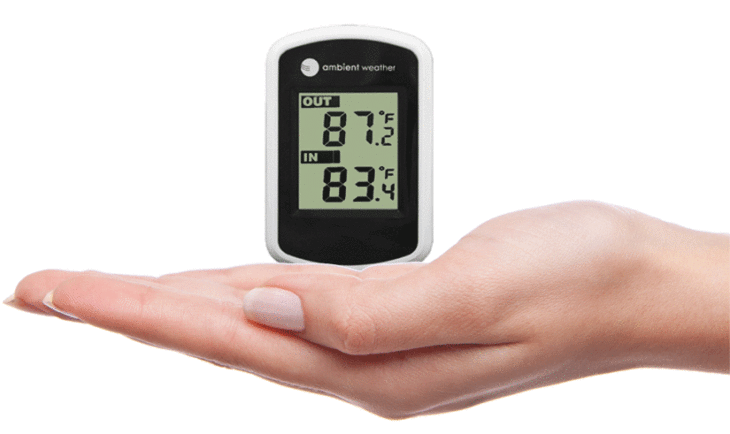 6 Best Indoor Outdoor Wireless Thermometers in 2023
It is not easy finding a good indoor outdoor thermometer that does not break easily. It is especially tricky if you want to get accurate information about the weather so that you can plan your trips and activities ahead of time. We have reviewed some of the best indoor outdoor thermometers to help all of you weather enthusiasts decide on the model that is best suited for you.
We have reviewed some of the best indoor outdoor thermometers to help all of you weather enthusiasts decide on the model that is best suited for you. Since it's getting cold, it's also a good idea to take a look at the best fire tables on the market, like the ones Jack Ford reviewed here: https://www.thepatiopro.com/best-fire-pit-reviews/fire-tables/
Before we show you the list of six best indoor outdoor wireless thermometers, we will explain to you some of the main differences between an indoor-outdoor thermometer and a home weather station.
An indoor outdoor thermometer is made for measuring the temperature as well as humidity. It also comes with a display that shows date and time. On the other hand, a home weather station features more advanced options, such as providing information about UV and solar radiation, wind speed and direction, heat index, rainfall, and dew point.
1. Ambient Weather WS-2902A Osprey WiFi 10-in-1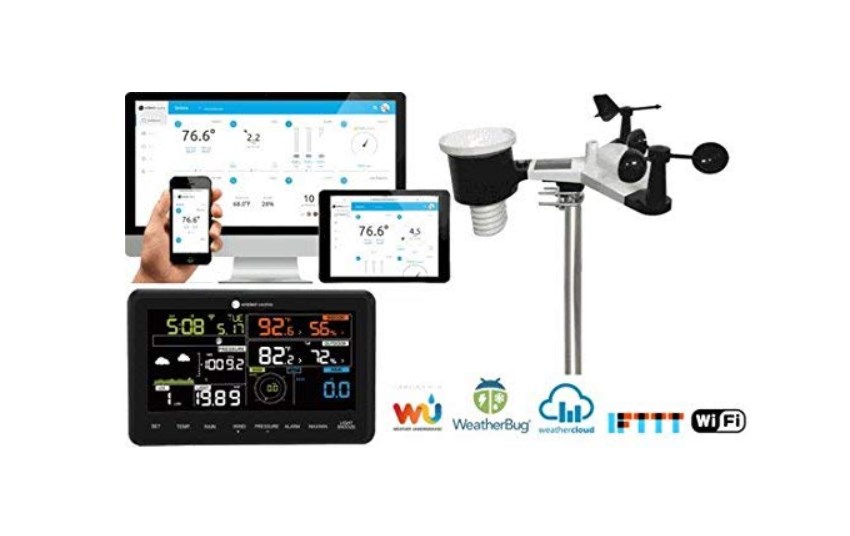 This weather station has an outdoor sensor that is powered by a solar panel, as well as batteries that serve as the backup. This sensor is made to work wirelessly which is very convenient for quickly sending all the information to the indoor display. The indoor display is updated every 16 seconds, and it can be located as far as 100 feet away from the outdoor screen during most weather conditions. The LCD display is connected to power with a wall adapter.
This wireless indoor outdoor thermometer offers functions that include high and low temperatures, forecast, barometric pressure, date and time, and temperature and humidity. This model also comes with some of the more advanced options, such as measuring the UV and solar radiation, heat index, dew point, rainfall, wind chill, wind speed, and direction. There is also remote monitoring and reporting, as well as smart home integration. Ambient Weather has a high level of functionality and is famous for its accuracy. That makes it more expensive than an average thermometer, but it is worth the money.
Pros:
This model has the best accuracy of sensors on the market.
It comes with smart home integration and internet connectivity.
It also has an LCD display that is very user-friendly.
Cons:
The setup takes more effort and time.
It is on the more expensive side.
2. AcuRite 02027A1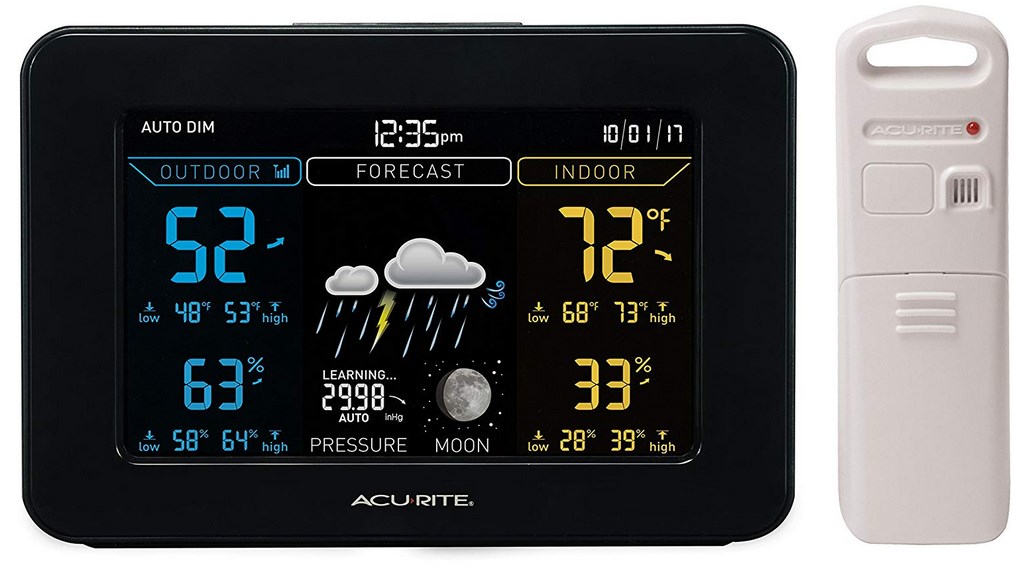 AcuRite 02027A1 is an excellent match for you if you value accuracy, but you do not need all the advanced functions of a home weather station.  The display is bright, and the setup is very easy. This thermometer has an outdoor sensor that runs on only batteries, which means that you will need to change them regularly. The AcuRite 02027A1 gives you information about the forecast, temperature, and humidity, barometric pressure, as well as the moon phase.
The display shows daily high and low readings along with the all-time high and low readings.
Pros:
This thermometer comes at an affordable price.
It is easy to set up and read the display.
It comes with Patented self-calibrating forecasting.
The measures are very accurate.
Cons:
This device does not have the ability to measure rain or wind.
You cannot set any alerts on this thermometer.
There is no remote reporting and smart home integration available.
3. Ambient Weather WS-10-X4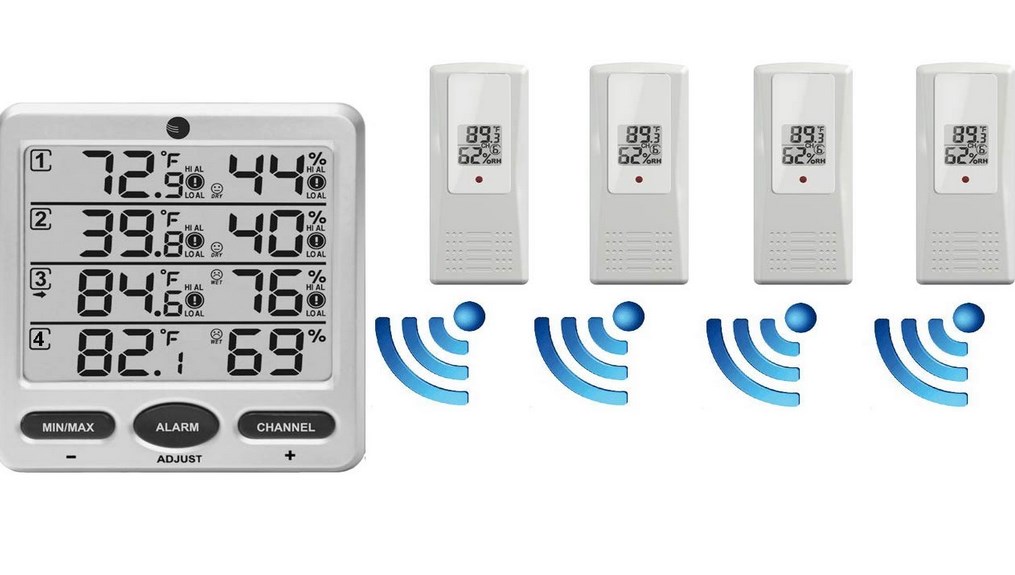 Ambient Weather WS-10-X4 comes with the ability to measure the temperature and humidity in several different locations at once. This wireless thermo-hygrometer can support as many as eight sensors and even a pool sensor. This model is an excellent choice for anyone that has a large home. It comes with four remote sensors, but you can add five more sensors.
These sensors, along with the base unit, are powered by batteries, which can last for months. The console has the option to set alerts for you when the measurements reach a certain number.
Pros:
You can buy an additional pool sensor to go with this thermometer.
You can customize alerts and notifications.
Both the remote sensors and the base unit show temperature and humidity.
Cons:
You must scroll down on display to see the data from all of the sensors.
Obstructions can reduce the sensor range by a lot.
This thermometer only shows temperature and humidity.
4. La Crosse Technology C85845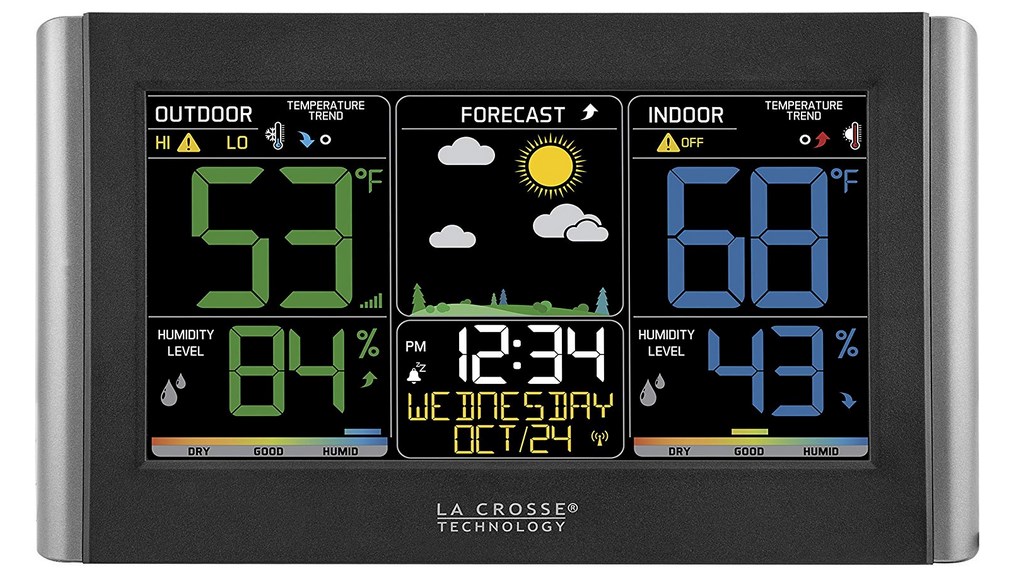 This weather forecast station provides you with accurate information about the temperature and humidity, as well as forecasts. The base unit comes with a stylish design and a clear color display. However, this weather station might not be for you if you are looking for internet connectivity.
Pros:
The color display is very easy to read.
There is an option for customizing the alarms.
You can mount this weather forecast station on a wall.
It comes with a backlight that can be adjusted.
Cons:
There is no reading of the barometric pressure.
The screen brightness is weak when you use the batteries.
5. La Crosse Technology V10-Wth-Int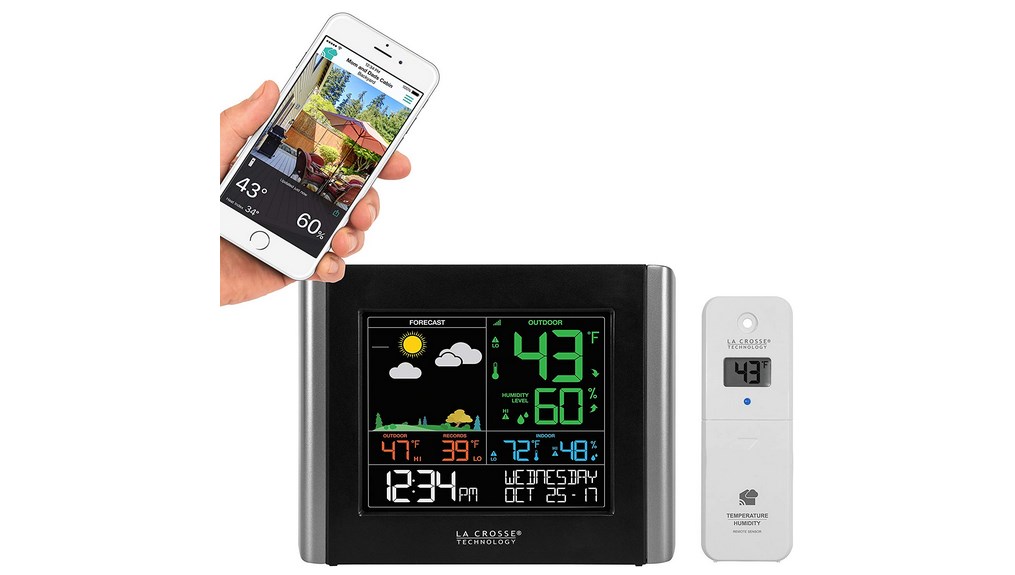 This indoor outdoor thermometer made by La Crosse Technology is a budget-friendly version for anyone looking for an accurate device. This thermometer does not have all the advanced functions, but it is still good value for money. For example, it cannot create its own forecast, but it can find them online on the National Weather Service website by using the WiFi connectivity.
Pros:
There is a wide remote sensor range that goes up to 400 feet.
This device features remote reporting with the use of a free app for your smartphone.
It has great value in its price range.
Cons:
It cannot make a forecast on its own.
It can only measure temperature and humidity.
 6. AcuRite 02081M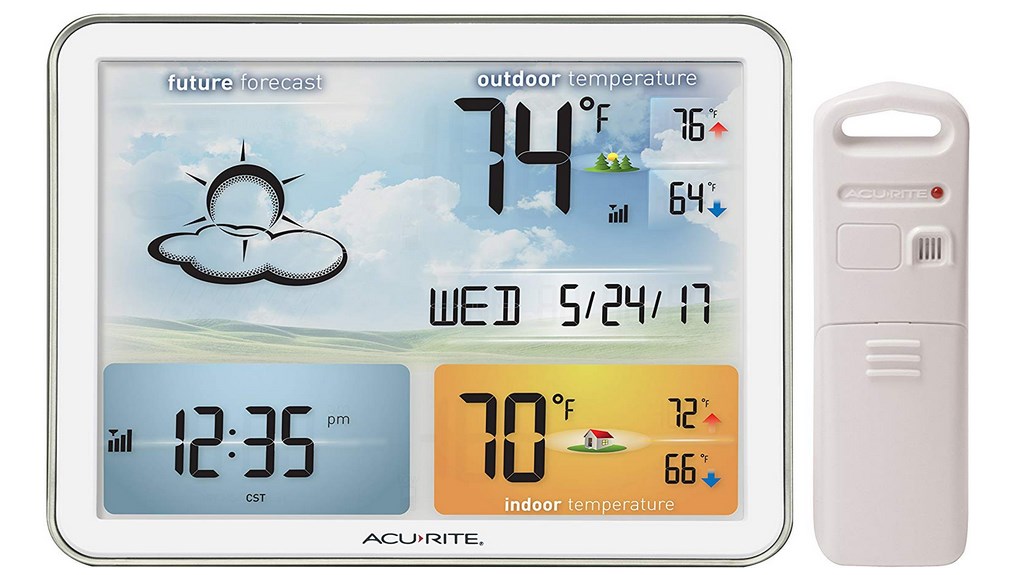 AcuRite 02081M is one of the thermometers that come with the best design, and it looks very sleek. It can be mounted on the wall or it can sit on the tabletop. The price is affordable, but the device does not feature high-end functions. The indoor unit offers you information about the temperature, forecast, date, and time, so if you require any of the additional functions, this one is not for you.
Pros:
You can choose to get a monochrome or a color display.
The wireless range can go up to 330 feet.
The information on the display is updated every 16 seconds.
The price is budget-friendly.
Cons:
This thermometer does not provide you with humidity readings.
The LCD display has some poor viewing angles.
The barometric pressure is not visible on display.
Conclusion
If you require accurate and quick information about the weather that can be accessed from your home, having a portable indoor outdoor thermometer is an excellent choice for you. You can choose a weather station with built-in Wi-Fi connectivity if you want to receive the alerts about the weather conditions when you leave your home.