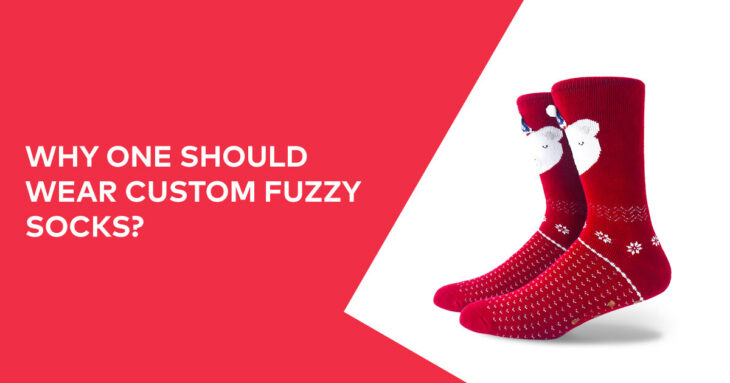 Why Should One Wear Custom Fuzzy Socks?
Fuzzy socks are warm, comfortable, and must for cold temperatures. Imagine the feeling of walking on a cold floor without socks or even thin cotton socks. For some people, only imagining this will give them chills. People stock up hats, scarves, winter boots, gloves but often forget about socks – that helps keep your feet and body warm. Wearing fuzzy socks in winters and cooler nights offers several health benefits. Organizations worldwide also use custom fuzzy socks with their logo to spread brand awareness and goodwill. Non-profits also use these socks as fundraisers and giveaways to less privileged people. Plus, wearing fuzzy socks is more fun than regular socks – with their vivid colors and fun patterns.
Reasons for wearing custom fuzzy socks: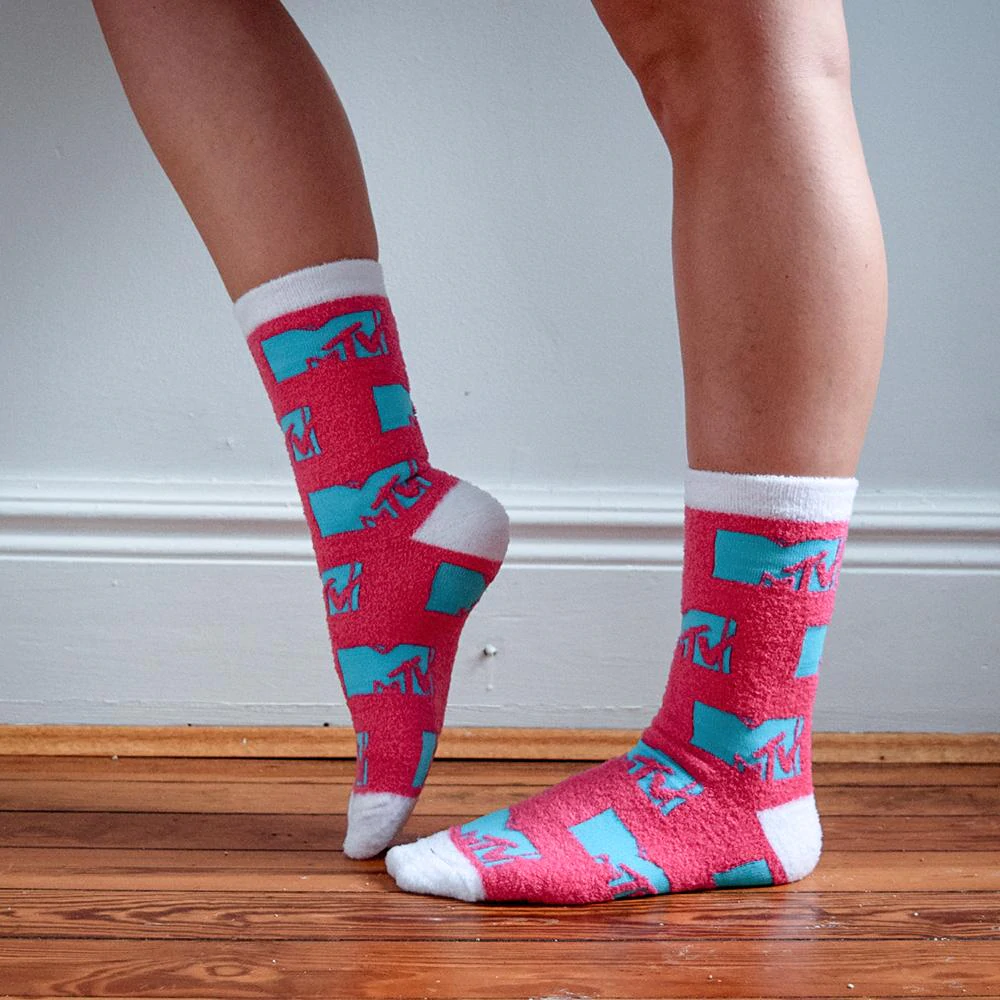 Comfortable: Most people try to warm themselves by wearing winter clothes over their bodies but forget about their feet. Wearing fuzzy socks helps regulate body temperature better; it's an absolute must for people with cold feet – they can wear them regularly during sleeping, improving their sleep quality.
Soft and smooth: These socks are essential for people struggling with dry and rough feet. You can use them regularly after applying moisturizer. With their extra warmth and moisture-locking properties, they help keep your feet soft and smooth.
Prevents odor: Some people are more sweaty, and even wearing regular socks doesn't seem to help their smelly feet. Fuzzy socks absorb more moisture than normal socks and help to keep odor away.
Reduces hot flushes: Some women suffer hot flushes during their periods and after menopause – suddenly waking them up and increasing blood pressure during the night. Fuzzy socks are helpful to them with better temperature regulation.
Helpful gift and giveaway: Giving a pair of regular socks doesn't fit well in every situation, like high-profile clients or close ones. But, custom fuzzy socks are a different story; they look and feel premium.
For sports activities: These socks are helpful during activities like hiking, backpacking, mountaineering, skiing, and snowboarding to help with performance and comfort.
How to manufacture custom fuzzy socks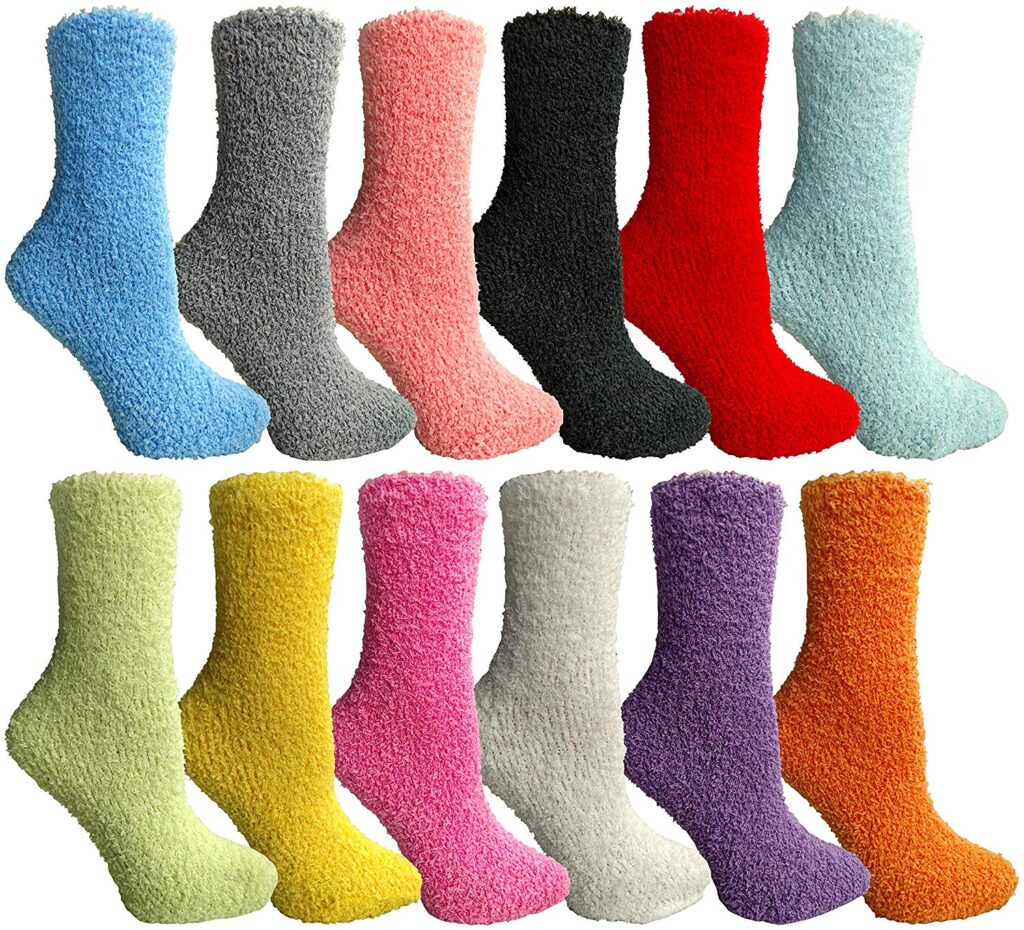 The process of making fuzzy socks have come a long way. From using needles and wool to using sophisticated machines. Now they use various blends of cotton, acrylic, polyester, nylon, spandex, etc. They blend silk, bamboo, linen, cashmere, merino, mohair with the base material for premium quality. It increases the softness and comfort of the socks. You can also add different colors, designs, company logos, or text during the process.
The manufacturers use a circular knitting machine with the help of a software program. The machine uses various dyes and yarn colors to knit fuzzy socks. The process is mostly automatic and only requires some human monitoring to ensure every sock is identical.
Design the best custom fuzzy socks:
Various types of fuzzy socks are helpful for different purposes like personal use, gifts, and giveaways. Keep the following points in mind for designing your socks:
Length: You can choose from various socks lengths according to purpose. E.g., you can go with no-show fuzzy socks with sneakers and sports activities; for medical purposes, use a knee-high fuzzy sock.
Gender: Most people think fuzzy socks are only for women; however, nowadays, men also wear these socks. Unisex designs are helpful when you are unsure who's going to wear, like for giveaways.
Colors: Use colors according to your preferences for personal use, and for gifts, you can use the theme, like the event theme. You need to focus on your company's colors and logo design for giveaways.
Materials: Look at the purpose and budget for choosing the materials for fuzzy socks. For example, if you will present to a high-valued client, you need to use premium materials discussed above.
Popular fuzzy socks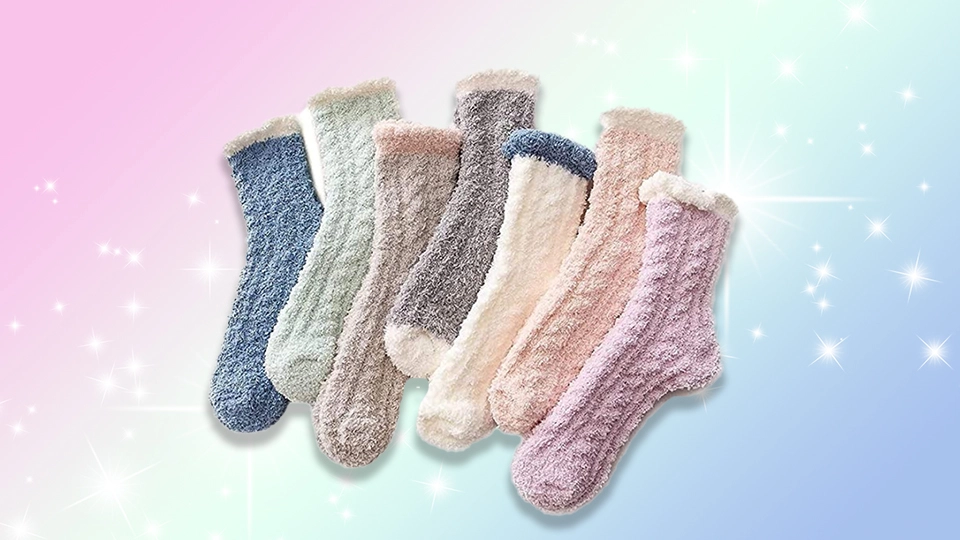 Microfiber: Microfiber fleece fuzzy socks are warm as a blanket. This one is ideal for people suffering from cold feet. They don't stretch and sag; their microfiber keeps them soft for longer.
Aloe-infused: These aloe-infused socks are suitable for people struggling with dry and rough feet. They also provide ideal warmth during cold nights.
Anti-slip: One of the most significant issues with fuzzy socks is being slippery. The anti-slip socks with grips on the soles are ideal for wearing indoors and doing gentle physical activities like yoga. They are also helpful for kids indoors.
Neutral: If you are not fond of colors in socks, these are perfect for you. They provide the same comfort and warmth without color and patterns distractions.
Chenille: These socks provide the next level of softness and fuzziness; they are warm and snuggly.
Printed: If you are bold and looking for unique ways to get attention, printed fuzzy socks are for you. You can choose the thickness according to your needs.
Slipper socks: The ultra-low design is easy to slip in and works well with sports shoes and sneakers.
Stocking-style: This one is beneficial to people with poor circulation in the legs and runs cold. They come with a thicker side and plush lining, and sweater exterior.
Lace cuff: These socks come with soft lace around the cuffs, preventing them from falling.
Whatever style you want, you need a reliable manufacturer for high-quality custom fuzzy socks. EverLighten has over eighteen years of experience creating socks from prominent organizations, sports teams, influencers, and individuals.