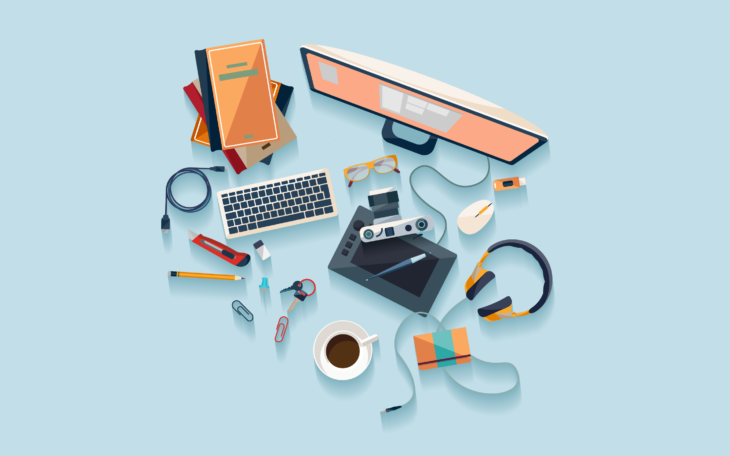 10 Essential Graphic Design Tools for Beginners
Graphic design, once a niche industry, has experienced a steady rise over the past few years. This boom has been fostered by the digital world's expansion and the ever-increasing need for visually appealing and effective content. Whether it's designing social media posts, designing websites, advertisements, logos, or more, graphic design injects life and personality into our daily interactions.
Brief Overview About the Rise of Graphic Design
Thanks to technological advances, graphic design is more accessible and important than ever. Companies big and small recognize that compelling visuals are crucial in capturing audience attention. Plus, with social media and online platforms flourishing, businesses desire engaging graphics that resonate with their customers. This rise not only has made graphic design a highly sought-after skill but also an eye-catching avenue for artistic expression for many.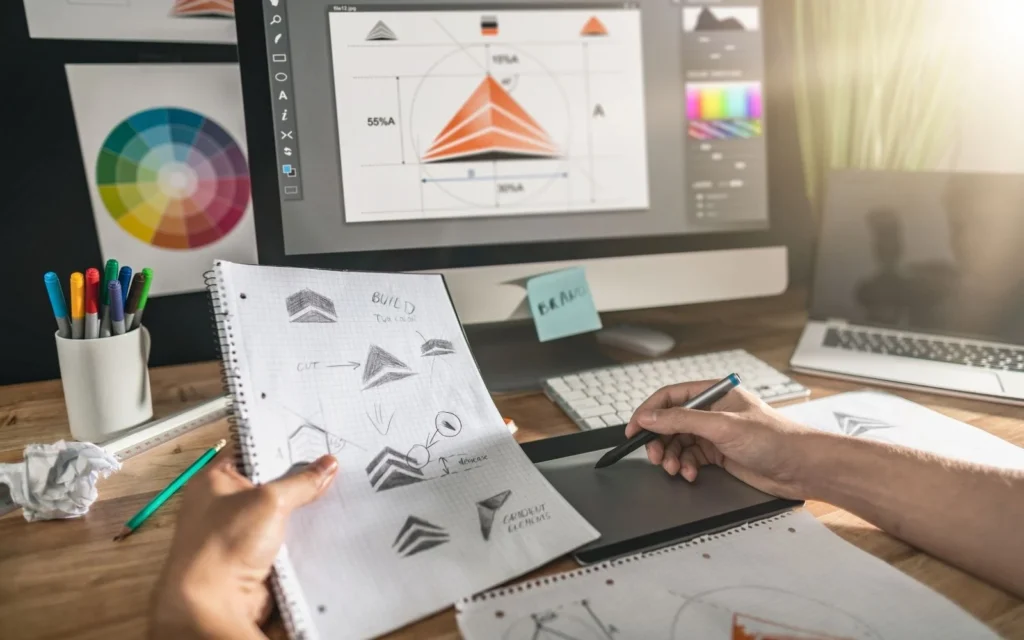 Importance of Graphic Design Tools for Beginners
The right graphic design tools can mean the difference between a project that feels professional and one that falls flat. As a beginner, you might feel overwhelmed with countless options spread out before you. The beauty of these tools we're going to highlight is that they're designed to make the process less intimidating, more streamlined, and more fun. They get most of the difficult work done, so you can focus on releasing your creativity and learning the ropes. These devices turn the complex world of graphic design into a playground for beginners. So, let's get started on a journey of discovery into the world of design.
Essential Graphic Design Tools: An Overview
Before we delve into the list, let's first understand what essential graphic design tools really are. Simply put, these tools facilitate the process of creating, editing, and optimizing visual content. They range from sophisticated design software to simple apps that allow you to touch up photos, draw, paint, or design graphics with relative ease. Whether it's for making posters for your local event or creating stunning visuals for a client's website, these tools will make the task much more manageable and fun.
Moving on to why these tools are critical particularly for beginners. To put it plainly, learning the ropes can be much less intimidating when you have the right tools to guide you. These essential tools come equipped with intuitive interfaces, tutorial libraries, and sometimes, community support, making it easier for beginners to get the hang of design principles and techniques. Plus, using these tools can significantly enhance your efficiency and quality of work, paving the way for a promising graphic design career.
Top 10 Graphic Design Tools for Beginners
Let's dive into the pool of creativity and explore the ten amazing tools to put you on the right path in mastering graphic design.
Adobe Photoshop – the go-to photo editing tool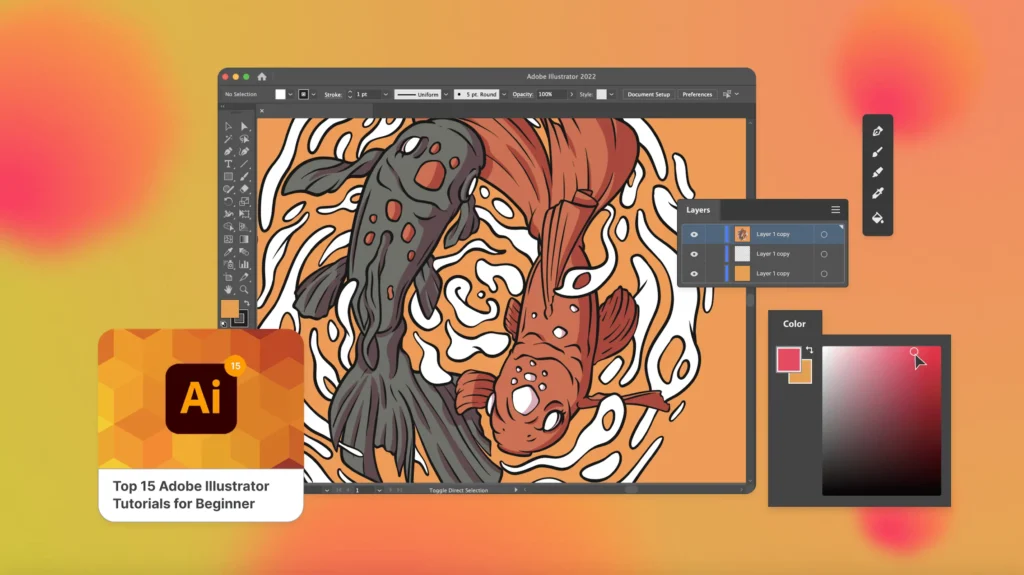 When people think of graphic design, Adobe Photoshop is often the first thing that comes to mind. It's an incredibly powerful tool offering an extensive range of features for photo editing, graphic design, animation, and even video editing. The possibilities with Photoshop are practically endless- you can manipulate images, craft intricate digital painting, and put together eye-catching illustrations. Although its complexity might feel overwhelming at first, plenty of online tutorials will guide you through the process, making Photoshop an essential tool for all beginners diving into the world of design.
Adobe Illustrator – a must-have for creating vector art
While Photoshop may be king for editing and manipulating existing images, Adobe Illustrator dominates the scene when it comes to creating vector graphics from scratch. This professional vector graphics application is perfect for designing logos, icons, drawings, typography, and complex illustrations for any medium. It uses mathematical equations to create art that is clean and camera ready, which comes handy when you work on images that should be scaled without losing quality.
Canva – the simplest online design tool
Are you wanting to create stunning designs effortlessly? Meet Canva, a user-friendly drag-and-drop design tool with a generous free version. It's an online platform that allows you to create social media graphics, presentations, posters, and other visual content effortlessly. Canva also provides a vast library of templates, stock photos, and graphic elements, making it a fantastic tool for beginners and experienced designers needing to whip up a design quickly.
Sketch – a professional digital design tool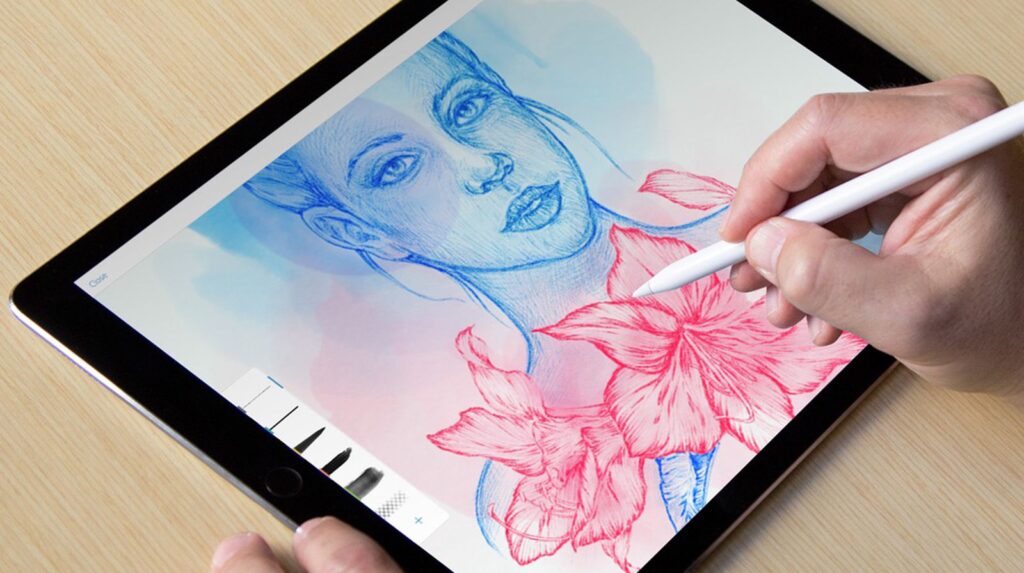 Originally built for Mac OS, Sketch is a remarkable vector graphics editor for designing user interfaces and experiences. It's notable for its user-friendly interface and comprehensive features, making design simpler and more enjoyable. With Sketch, you can create interactive prototypes without any programming knowledge – a wonderful tool for web designers and app developers!
InDesign – perfect for layout designs
Another must-have tool from Adobe family is InDesign, tailored for creating beautiful layouts. It's an industry-standard for the publication of newspapers, magazines, eBooks, and digital brochures. With InDesign, you can design pages and create more complex layouts with links, interactive elements, and multimedia. If creating captivating multi-page design documents is on your agenda, InDesign will be your reliable tool.
Figma – a design tool for collaborative projects
For those who often work with a team, Figma makes collaborative design effortless. It's a cloud-based design tool that allows several people to work on a project simultaneously, and see real-time updates. With a multitude of design pieces, from wireframes to high-fidelity designs, Figma is a powerful tool perfect for larger projects and team collaboration.
Gravit Designer – a free, versatile graphic design tool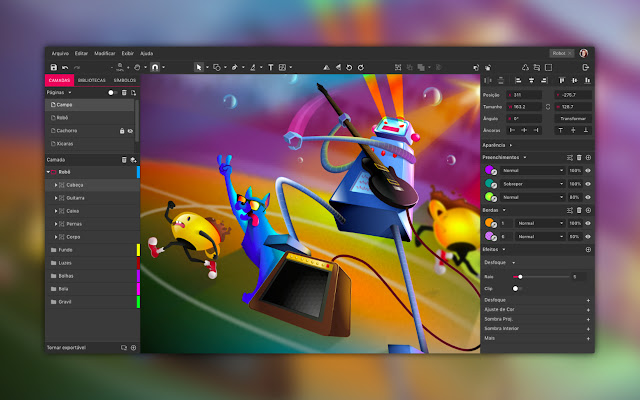 If you're a beginner looking to experiment without investing, Gravit Designer is a top-notch free graphic design software. It offers a mix of vector design, photo editing, and layout design in one complete package. You can use it online or download it — an ideal choice for people starting their journey in graphic design.photo editing
CorelDraw – the best tool for vector illustration
Loaded with innovative tools, CorelDraw stands out when it comes to vector illustration and layout versatility. It provides a seamless design experience for graphics, layouts, illustrations, photo editing, tracing, web images, print projects, and much more. Its user-friendly interface makes it easy to create, adapt, and personalize stunning designs with confidence.
GIMP – The Free Photoshop alternative
The GNU Image Manipulation Program or GIMP, is a free and open-source alternative to Photoshop. Not as extensive as its Adobe counterpart, but it offers solid functionality for photo retouching, image composition, and image authoring. It's widely embraced by those starting their graphic design journey on a budget.
PicMonkey – Photo editing made easy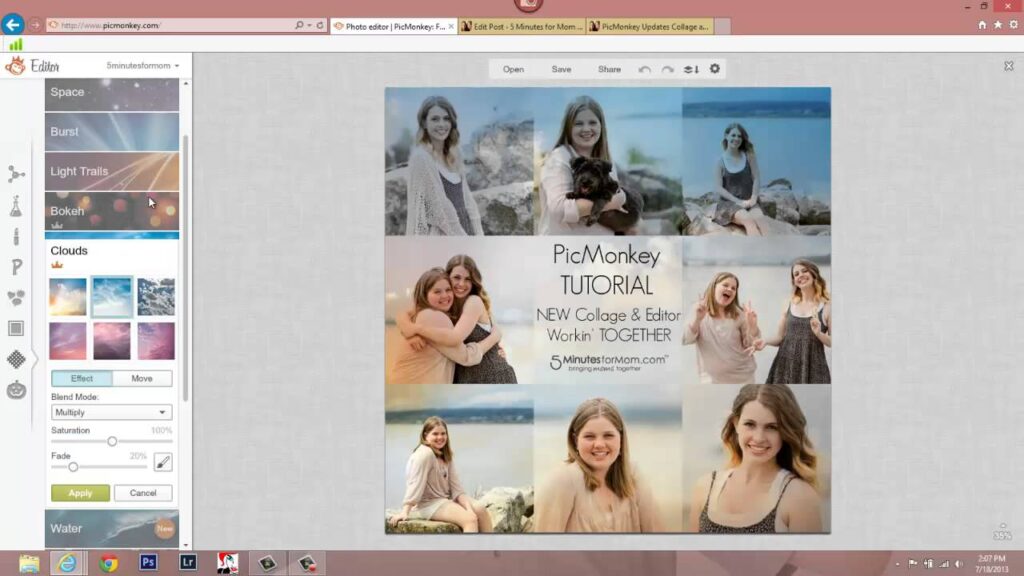 Last but not least, PicMonkey makes photo editing straightforward, fast, and fun. It's an online tool that offers a range of filters, textures, and effects to enhance photos. It's great for making quick edits, adding text overlays, or creating collages, proving to be one of the essential tools for beginners in the world of graphic design.
Now, armed with knowledge about these essential tools, you are one step closer to carving out a successful path in the realm of graphic design. Happy designing!
Tips on Choosing the Right Tool
Selecting the correct tool from the plethora of options available can feel like a mammoth task. Here are a few tips that will help ease this process:
Considering your design needs
First, identify your design requirements. What type of graphics do you plan to create? Logos, posters, websites? Graphic design tools vary in their specialties — some excel in photo editing, while others are great for typography or layout design.
Assessing your skill level
Next, evaluate your skills. Are you a beginner just dipping your toes into the graphic design waters, or do you have some prior experience? Beginners may find feature-rich, complex software overwhelming, while advanced users could feel restricted by too-basic tools. Choose a program that aligns with your skill level and offers room for growth as you improve.
Checking your budget
Lastly, factor in your budget. Can you afford a pricy professional tool or should you start with a budget-friendly or even free option? Remember, expensive tools don't always guarantee better outcomes; often, it's all about the skills and creativity of the user. Commitment to learning and practicing will serve you much better in your graphic design journey.
Consider these aspects carefully, and you'll be able to find a tool that not only meets your needs but helps you grow as a designer as well. Remember, the best tool is the one you find most comfortable and intuitive to use.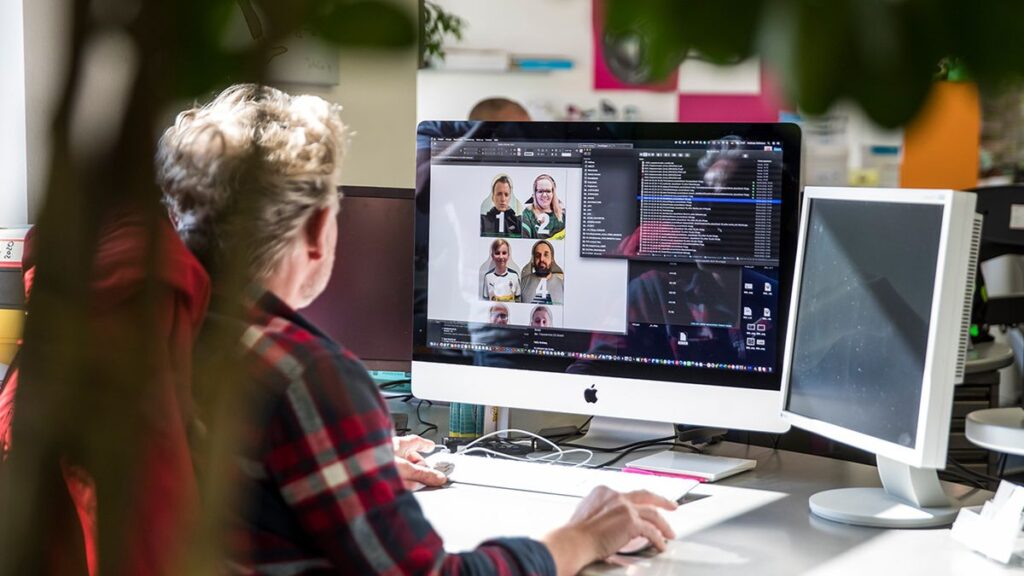 How to Master the Use of These Tools
Learning to effectively utilize graphic design tools is not just about getting your hands on the right software or resources. It's all about practice, seeking help when necessary, and staying updated with the new trends and tools in the market. Here are some ways you can perfect the use of these tools:
Participating in Graphic Design Communities for Support
One of the best ways to up your game in graphic design is to be part of online communities. Platforms like Behance, Dribbble, or Designhill are perfect places to start. You can share your work, get feedback from experienced designers, and even pick up a few tips and tricks. They also provide an excellent platform for networking, where you can meet like-minded individuals, creating opportunities for collaboration.
Engaging in Continuous Learning and Practice
The world of graphic design is always evolving. To keep your skills sharpened and to continue to improve, it's vital to keep learning and practicing. Try out different styles, experiment with new tools, and don't shy away from stepping outside your comfort zone. The more you learn and practice, the more versatile you will become.
Utilizing Online Tutorials and Resources
Never underestimate the power of a good tutorial. Websites like YouTube, Skillshare and even Adobe's own tutorial section are filled with comprehensive guides on how to use specific tools, techniques and develop your skills. They offer step-by-step instructions suitable for beginners, making it easier to understand and learn at your own pace. Dive into these resources, and you'll be a pro in no time!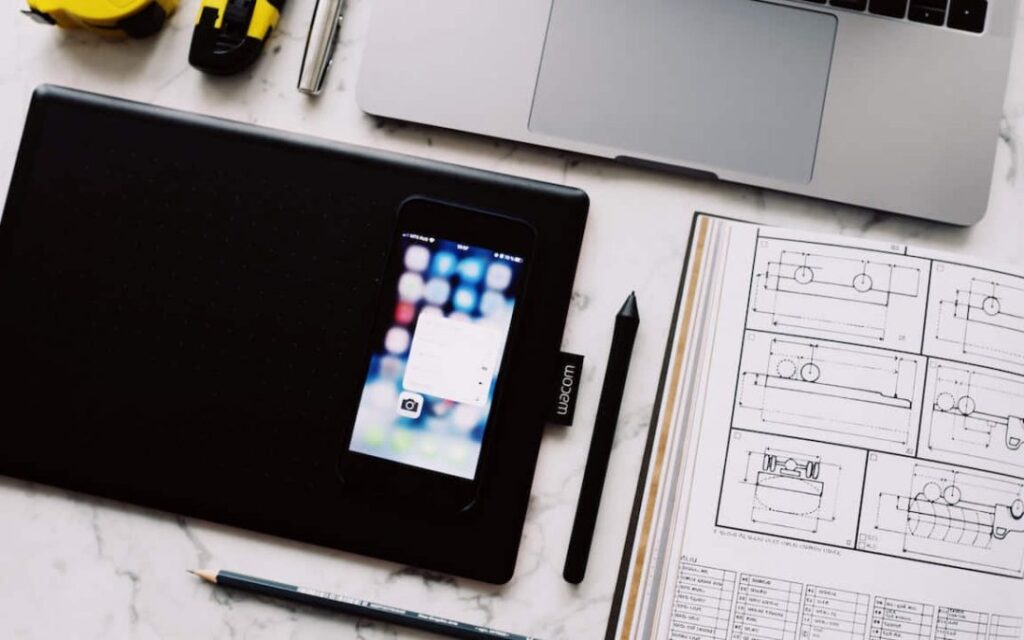 Conclusion
Reiteration on the Importance of These Tools for Beginners in Graphic Design
As a starting point in your graphic design journey, these tools are absolutely essential. They provide different functionalities that cater to various aspects of graphic design. Tapping into them can make the difference between creating average and outstanding work. Keep in mind:
– Programs like Adobe Photoshop and Illustrator offer intricate detailing for both photo editing and vector return illustration.
– Tools like Canva and Piktochart could help you create appealing social media graphics.
– Resources like Shutterstock offer you access to millions of quality stock images, while sites like Flaticon have a vast array of icon sets.
Final Thoughts on Embarking on Your Design Journey
Starting any new venture, especially one as colourful and dynamic as graphic design, can feel equally exciting and intimidating. But remember, every expert was once a beginner. Don't worry about getting it perfect right out of the gate. Make mistakes, learn, iterate, and most importantly, enjoy your creative journey. These ten tools are just starting points; your creativity is the key. Let's get designing!