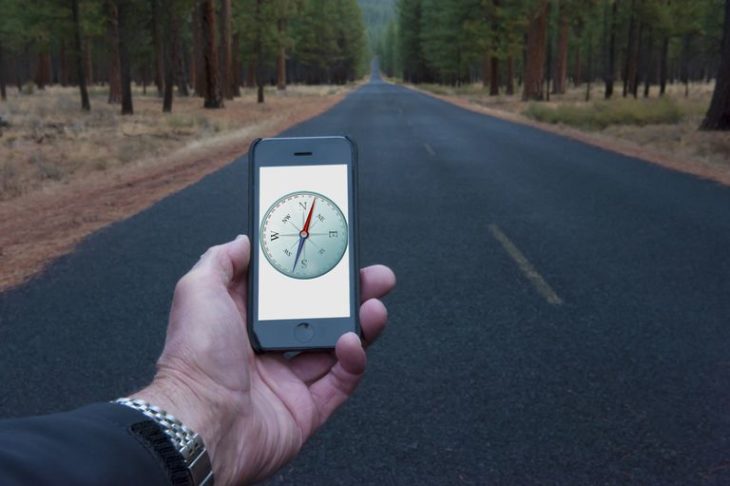 10 Best Compass Apps for Android and iOS in 2023
You probably don't remember the last time you saw an actual compass or even used one, but compasses are a great thing to have, especially if you are an adventurist. Hikers and backpacker know just how important it is to see where you are at every moment in time, and compasses provide you with such information, and they point you in the direction you want to go. With the rise of technology, there are more and more things that can help you out in the world, and here we are going to talk about compass apps that are currently the best or Android and iOS. So, without further ado, take a look at our list and see what do you think will work the best for you.
1. Altimeter GPS Pro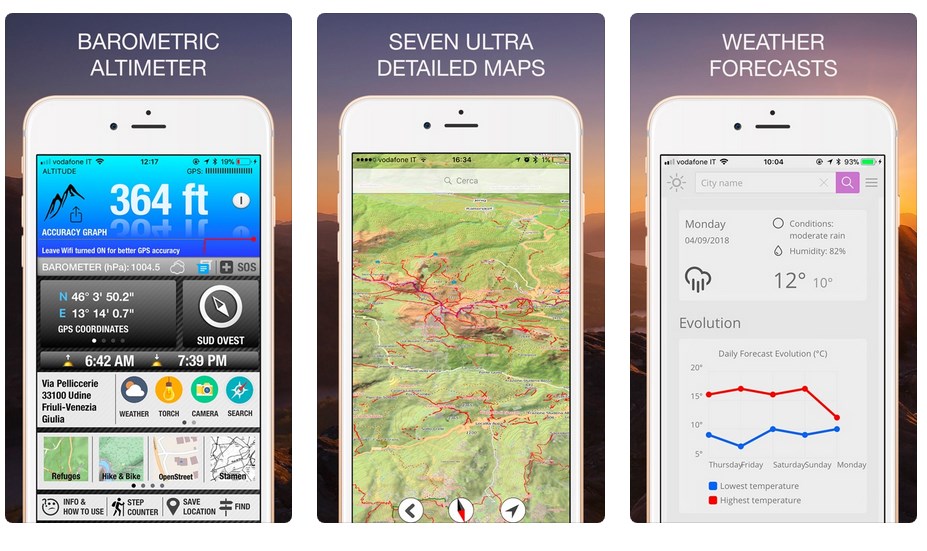 Altimeter GPS Pro is the best overall compass app for both Android and iOS. In addition to the standard navigation, you also can see your distance, time traveled, direction, and speed information.
Another great thing that this app provides is the multiple maps it has. You can change from a standard topo map to aerial photography, and there are even hybrid maps that can help you out too. You can also see the altitude, speed, time, location direction, and distance, and there is an option of sharing all of the details of your route.
Pros:
Correct
Nice features
Free
You can use it offline
Cons:
Beginners might find it hard to use
Ad pop-ups
2. Digital Field Compass – Android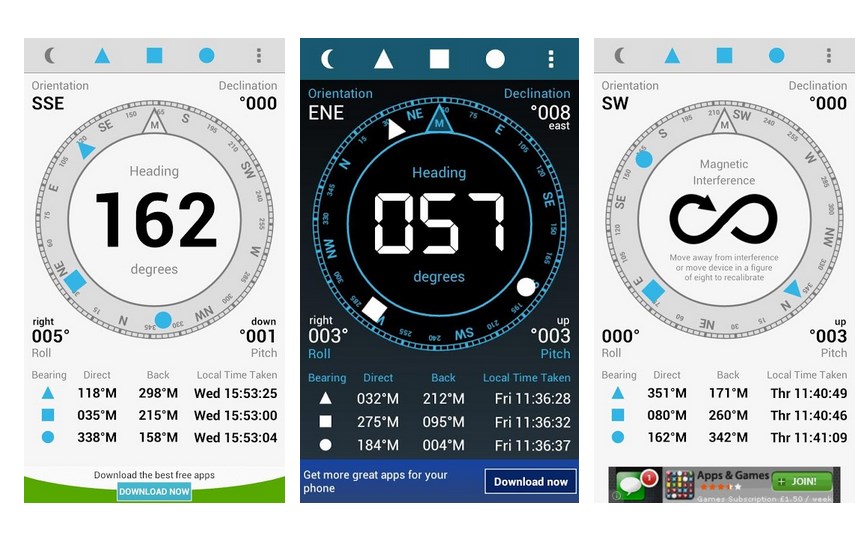 If you are an Android user, then you should take a look at this Digital Field Compass. This compass is the best standard compass app, and if you want something simple and easy, then this is the right app for you.
Digital Field Compass isn't using much battery, and even though there aren't any flashy backgrounds and maps, the nighttime mode feature is terrific, and it helps a lot if you are traveling at night. There is a manual declination option that gives you a piece of information about the nearby magnetic intrusion, which is really cool.
Pros:
 Simple and easy to use
Precise
Nighttime feature
Goog for Orienteering
Free
Cons:
It is nothing more than a basic compass
3. Smart Compass – iOS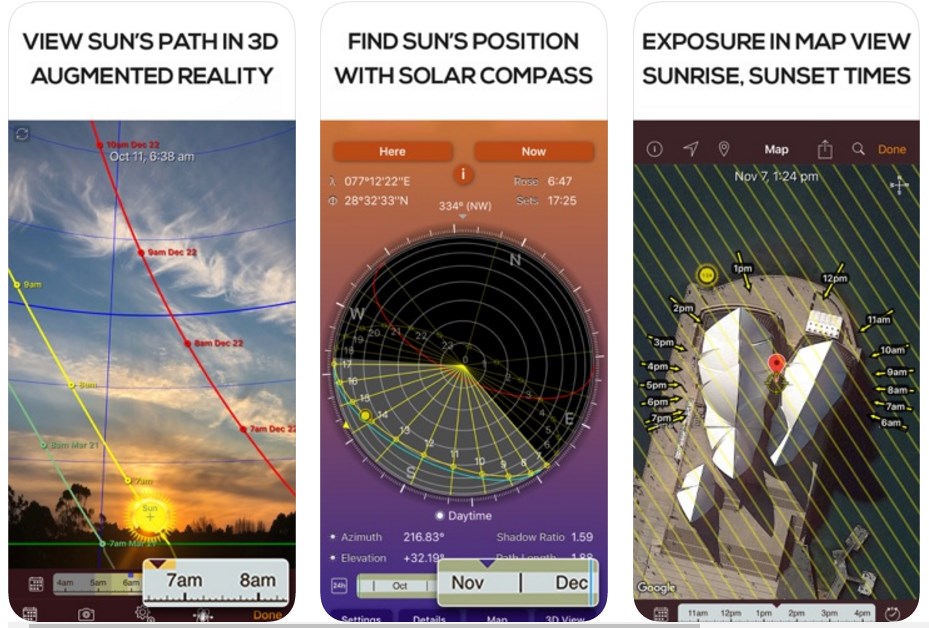 We talked about a standard and simple compass app for Android users, and now we will cover the basic and straightforward compass app for iPhone users. The app is called Smart Compass, and a cool feature that it has is that you can use your camera to see where excalty are you located. Google Maps are supported, and other elements that this app provides are night mode, digital compass, and a telescope mode.
You will know your speed, bearing details, coordinates, and if you pay some money, you will get a metal detector feature.
Pros:
Simple
Easy to use
Orienteering
Free
Cons:
Need to buy a metal detector
Nothing more than a basic compass
Just vertical viewing
4. Commander Compass – iOS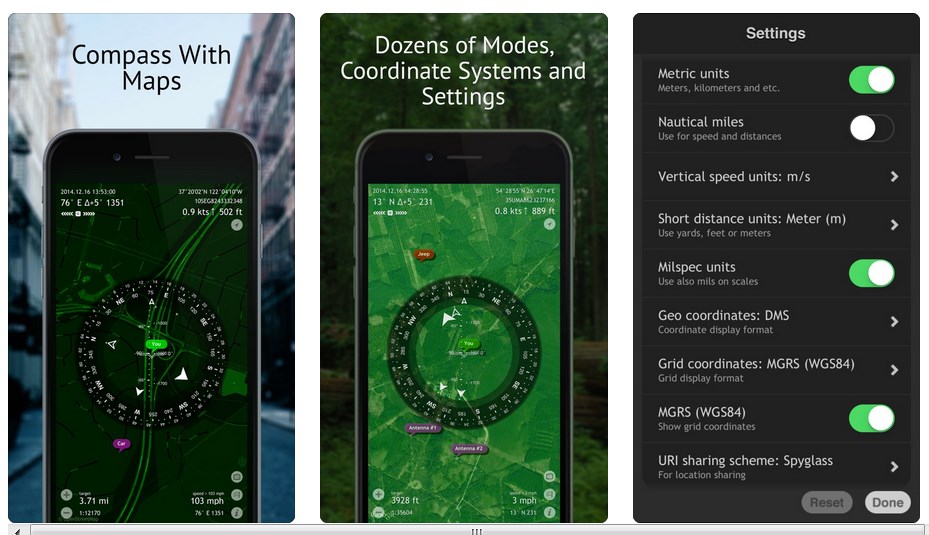 Even though this compass app is a standard compass, there is also a nice feature of association with multiple maps, and that gives you the ability to know at every moment where is your exact location and where are you going.
You can navigate manually, and even save the points where you have been so you can go back that same route. You can also save directions, and att al times you can see the speed, distance, elevation, direction, azimuth, and the time of arrival. In addition to this, there are various forms, course, current, altitude and speed, vertical, and maximum. You can get oriented by stars, the moon, and even the sun, and the extensive star charts is a fantastic feature, too. Overall, this compass app is a great thing to have If you are a frequent traveler.
Pros:
Numerous features
Fun
Astro-navigation feature
Free
Cons:
Hard to navigate
Ad pop-ups
5. Compass 360 Pro – Android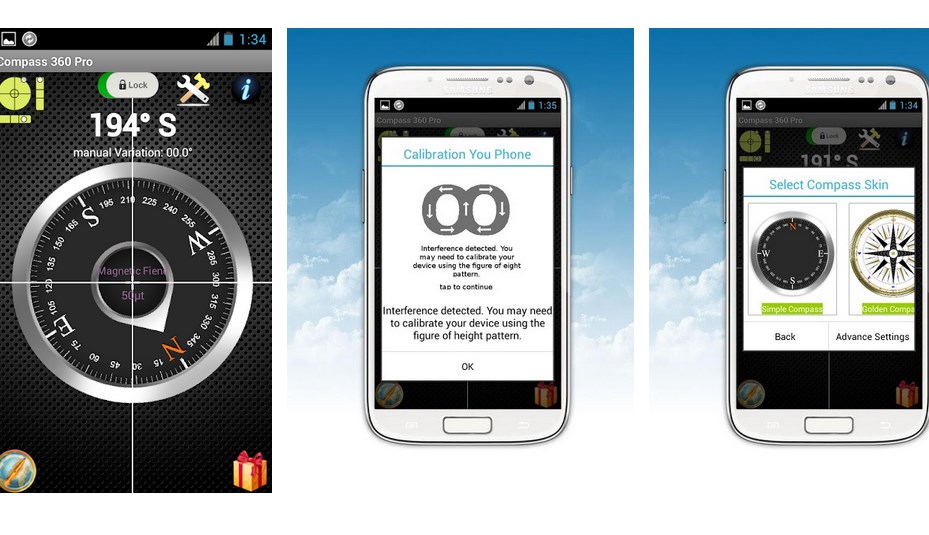 This is considered as the most useful simple compass. It is the perfect combination of functionality and ease of use. This compass app gives you a degree in decimals format, and if you possess some excellent navigation knowledge, you will find this app more than easy to use.
A cool feature that this app has is the ability to show north or magnetic north which goes excellent when you are using a topo map. The movement and look of this compass are just as amazing, too.
Pros:
Easy
Nice teaching device
Traditional compass as well
Free
Cons:
Just the features mentioned above are available
Battery usage
 Ads
6. Compass 55 – iOS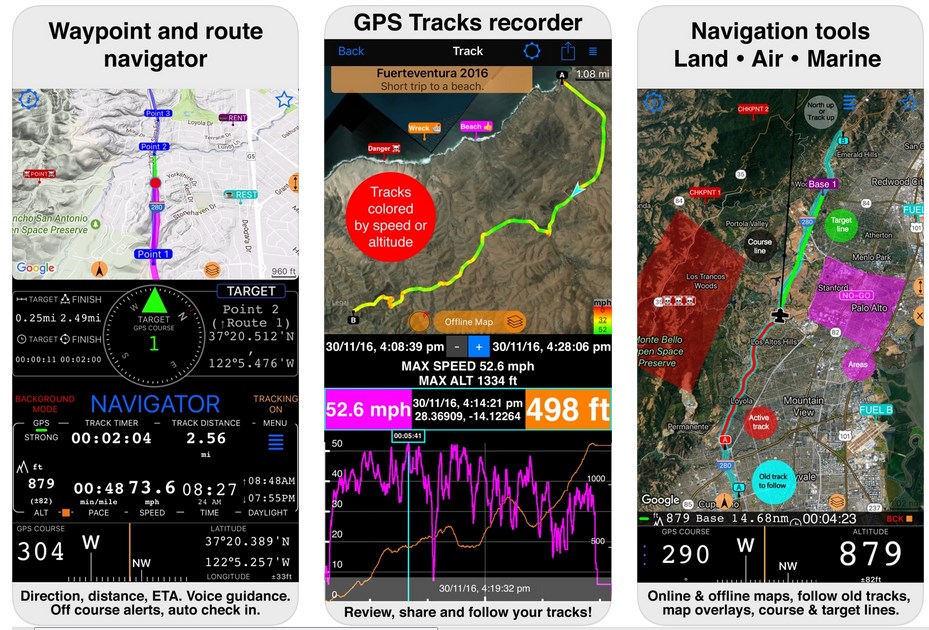 The best mixture of compass and GPS, this Compass 55 app for iPhone comes with numerous formats, directions, navigation, distance, waypoints, routes, maps and there is a cool feature called speedometer, too. The coordinate converter can help you change from conventional parallel systems like Lat/Long, MGRS and UTM, and it works just fine as a physical map. There is a sharing option available, as well as a pace counter.
If you want more cool features, you can always upgrade to a Pro version, and in that version, you get Google maps, or you can add a map server of your own desire. You can use it even if you are not connected to the internet, and you can read routes from other GPS devises. Overall, this compass app is probably one of the best apps out there currently available.
Pros:
Amazing features
Compass and GPS in one
Track course
Powerful
Cons:
Pro version requires money
Hard to navigate
7. 3D Compass Plus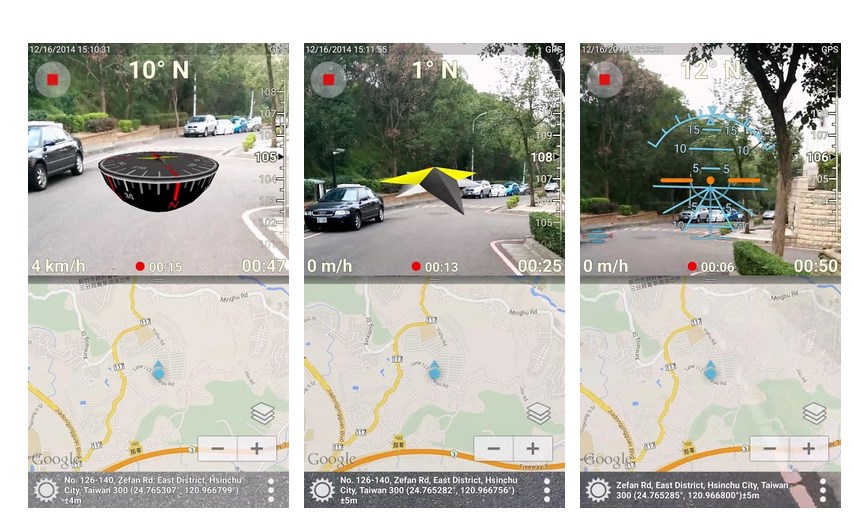 3D Compass Plus is the compass app for both Android and iOS. If you are looking for something to play with and at the same time you need it to be useful, this app is just the perfect option for both. The augmented reality view is a fantastic feature that this app provides, and it can show you a 3D compass, mad, address, speed, coordinates, and even time.
Another useful feature that this app offers is the ability to share your location through an image. Just take a photo of your site, sent it to someone, and they will get the information they need. It is great for geocaching, and if you are an orienteering enthusiast, this compass app is just for you.
Pros:
Amazing features
Fun
Augmented reality feature
Teaching tool
Free
Cons:
If you are looking for a standard compass, this is not it
Distracting
8. Gyro Compass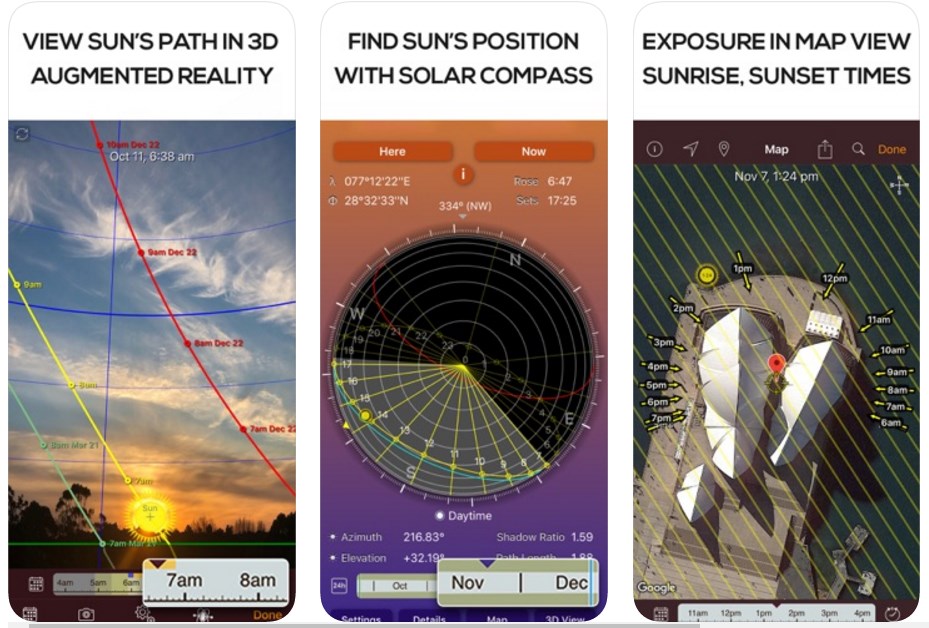 Gyro Compass is the most realistic compass app available for iOS and Android. If you are interested in such a compass app, then you should definitely download this app. It has everything that a real compass has, and in addition to this, there is a slope indicator and a rotatable bezel. It will work even better if your phone supports a magnetic sensor.
Pros:
Realistic
Good teaching tool
Free
Cons:
It doesn't have any additional features
9. 3D Compass Max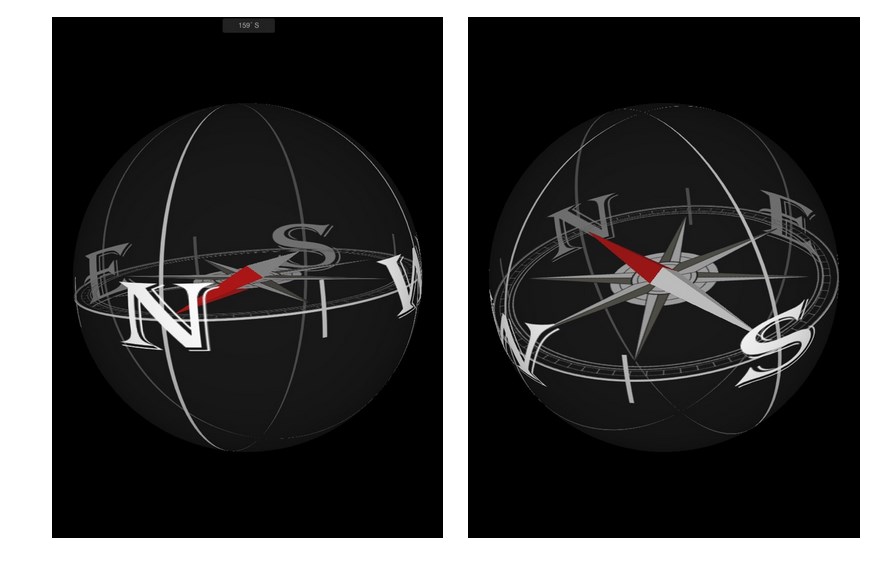 This compass app is actually designed as more of a teaching tool. You can use it like a real compass. However, you might find it challenging to navigate through due to its educational purposes. It has augmented reality view that you can use through your phone's camera, and in addition to this, there are some other cool features like it shows time, address, coordinates, speed, map and of course the 3D compass.
You can take videos and photos and later share it with everyone you want to. There is a geocaching feature too, and if you are looking something for orienteering, this is the app for you. It is available for Android and iOS also.
Pros:
Amazing teaching tool
Augmented reality feature
Numerous features
Cons:
Complicated
Distracting
Some users said it was inaccurate
10. Compass for Android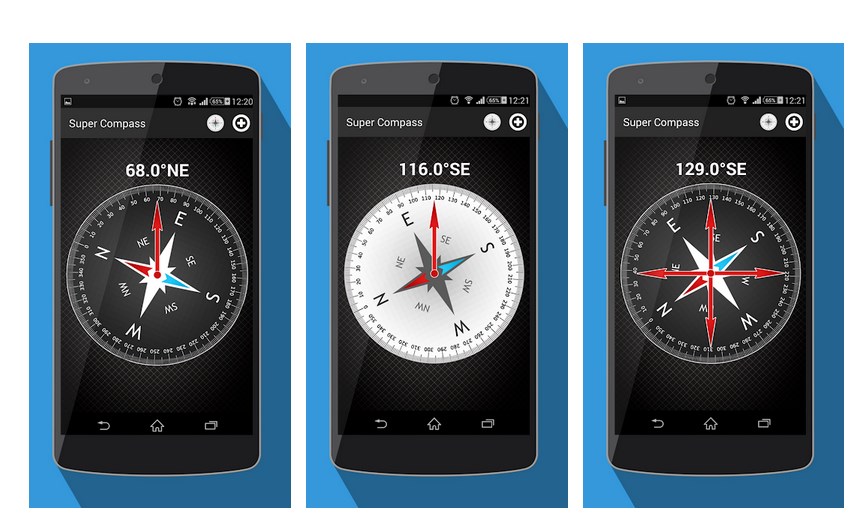 This is the best basic compass app for Android. It is effortless and easy to use, and if you are not looking for something flashy and some additional and complicated features, then you should definitely download this compass app. The size of the compass is also good, as it fits the big screen. It shows the exact degrees and location, and the design is so minimalistic and yet impressibly stylish. It is not going to work if you are near some magnetic field, or some metal objects so be aware of that.
Pros:
Nice performance
Various themes
Good graphics
Optional interface
Simple design and easy to use
Free
Cons:
We hope that we could illuminate you on some of the compass apps that are the very best at the moment, for both iOS and Android users. The apps are good for nighttime, so you don't need to worry about that. We have listed some simple and some more extravagant compass apps, so there is something for everyone.
You need to be aware that sometimes using a compass app can be tricky sometimes, but we think that all of these apps are running smoothly and are very accurate. The best thing about them that, in addition to having something like a compass on your phone, you also have some extra cool features that you can use, and even play with.