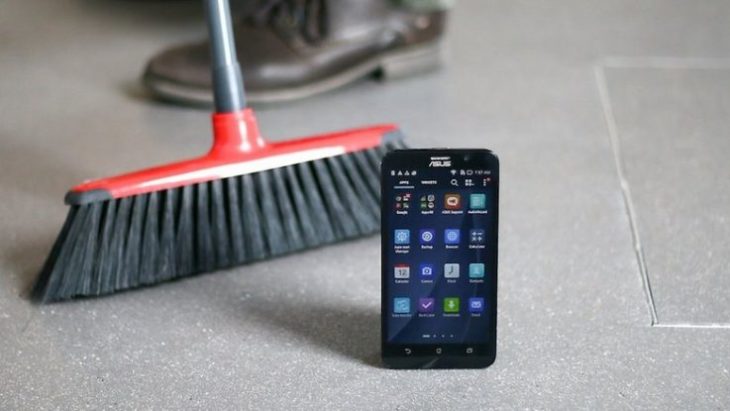 13 Best Cleaning Android Apps in 2023
Android devices often have background processes running, and they can take up a lot of memory space. This is why it is important to clean your device using cleaning applications, which help you free up a lot of space in your memory. You can clean up your smartphone using only one click. We are here to help you choose the best cleaning application for Android, so make sure to check out the list below.
1. Wondershare MobileGo Storage Cleaner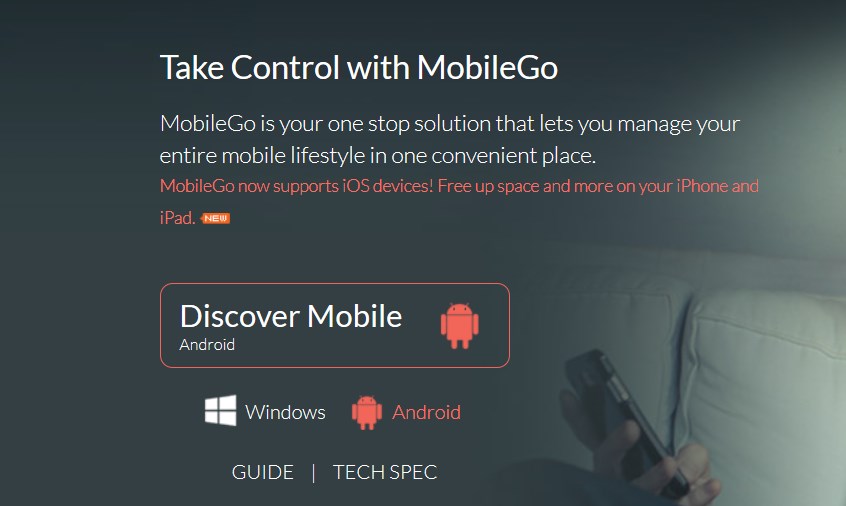 This Android manager comes with an extraordinary cleaning capability. Wondershare MobileGo Storage Cleaner will not only uninstall apps to free up space, but also manage APKs and boost your apps. This excellent application can be acquired for free at the Google Play Store. This storage cleaner features App Manager, SafeEraser, as well as file transfer, which makes it a perfect all-in-one cleaning app.
Pros:
This app is very sleek, and it features an interactive user interface. It is also free.
Cons:
It can lower your battery life quicker.
2. Clean Master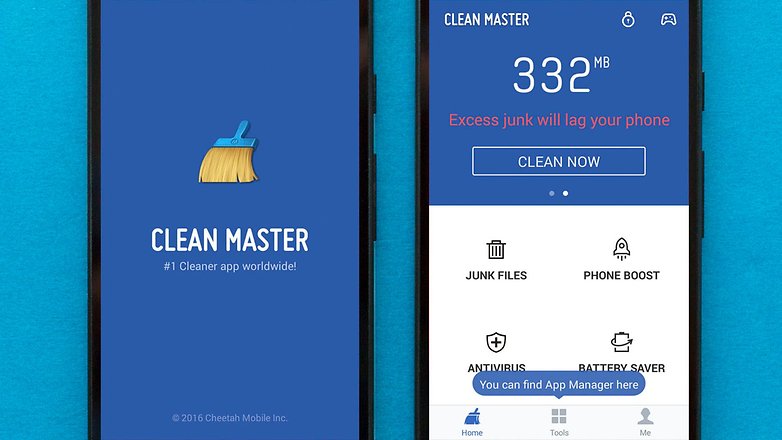 This is the most popular storage cleaner application for Android, and it is very simple to use. Clean Master makes sure that your residual files, app cache, junk files, and history are clean. This app features a colorful as well as an interactive interface. The great thing about Clean Master is that it does not drain your battery's life.
Pros:
The interface is very easy to use, and there is anti-virus protection as well.
Cons:
If you are an expert user, this app might not be the best match for you.
3. App Cache Cleaner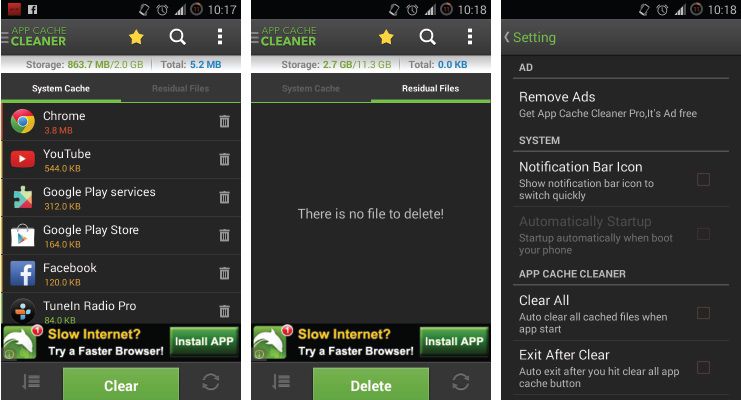 This cleaner will get rid of the cache files that pile up in your Android device. The cache files take up a lot of memory, and App Cache Cleaner is great for cleaning up that memory space. It can also tell you which apps on your device take up the most space, by analyzing the size of junk files they make.
Pros:
App Cache Cleaner is very easy to use.
Cons:
It only cleans cache files.
4. DU Speed Booster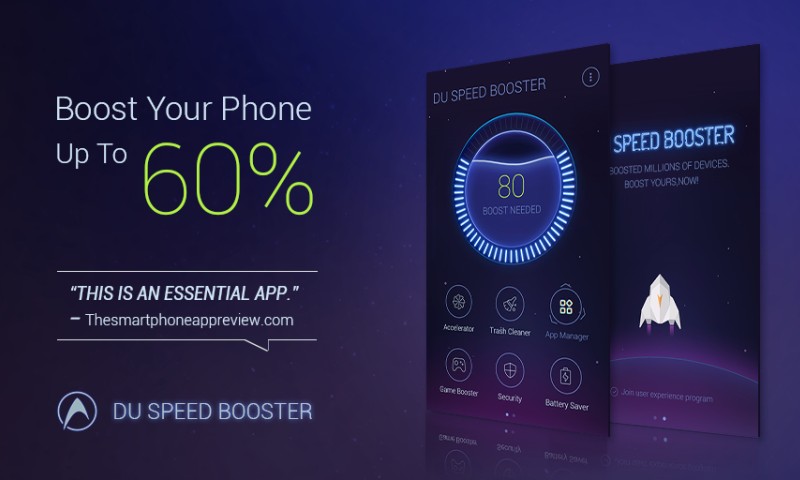 This Android app features a Trash Cleaner, which is used to clean junk files as well as app cache. DU Speed Booster also comes with an antivirus, a one-touch accelerator, a privacy advisor, as well as app manager. This app has an inbuilt internet speed test, and it is an excellent choice for anyone who needs an all-in-one cleaner app.
Pros:
This app comes with an accelerator,  a speed booster, and a game booster.
Cons:
It might be too much for an amateur user.
5. 1 Tap Cleaner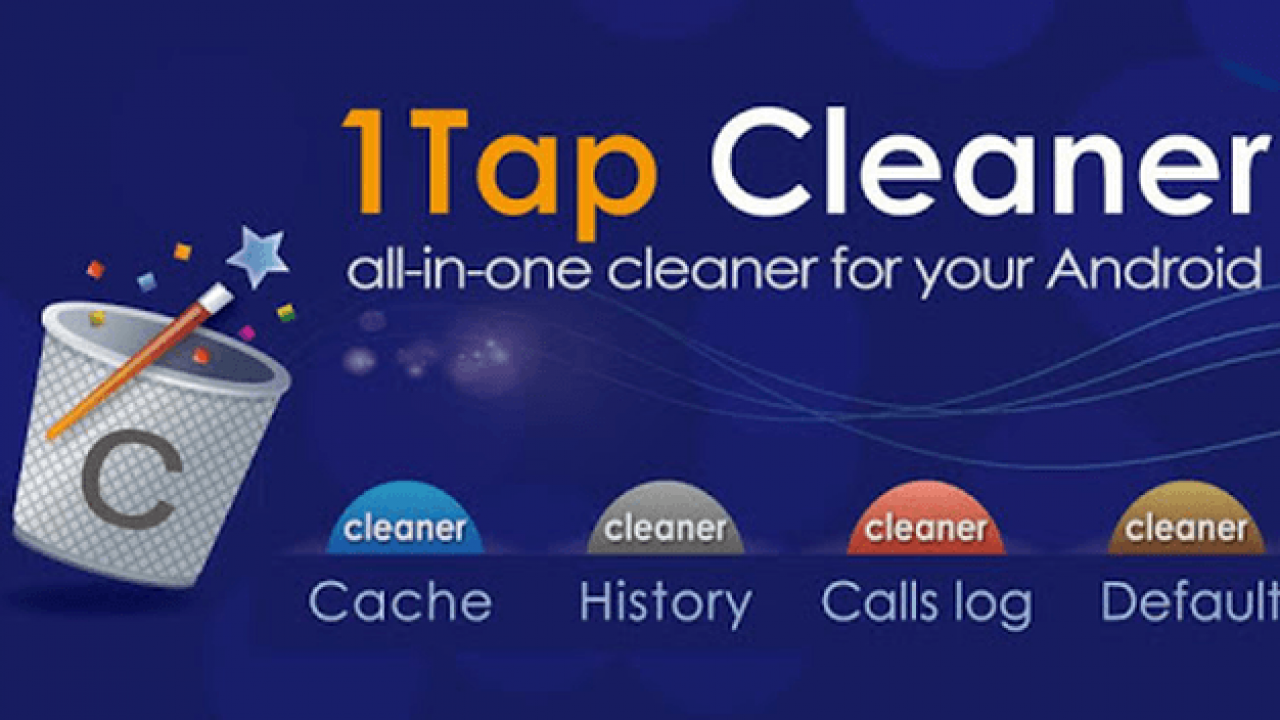 1 Tap Cleaner will optimize your smartphone and clean the storage using only one tap, hence its name. This Android cleaner app comes with a Call/Text log cleaner, a cache cleaner, and a history cleaner. 1 Tap Cleaner features a default cleaning option that can clean any apps default actions. The best thing about this app is the option to set a cleaning interval.
Pros:
1 Tap Cleaner is easy to use, and it is free.
Cons:
This app has limited functionalities.
6. SD Maid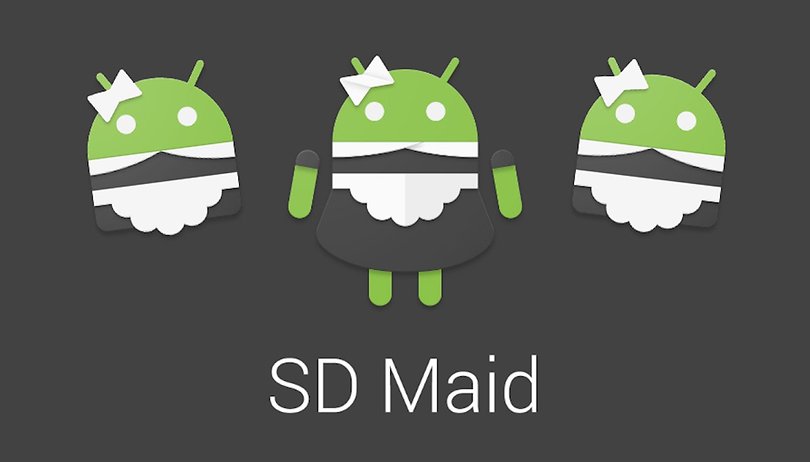 This is an application for file maintenance as well as file managing. SD Maid can track the folders as well as files that are left behind by uninstalled applications. It deletes those files and folders, which helps free up space from your device's memory. SD Maid comes in two versions. The free version of this app is a great system maintenance app, but if you want some extra features, you should try the premium version.
Pros:
This app cleans the system of widowed folders.
Cons:
It doesn't come with as much optimization.
7. Cleaner eXtreme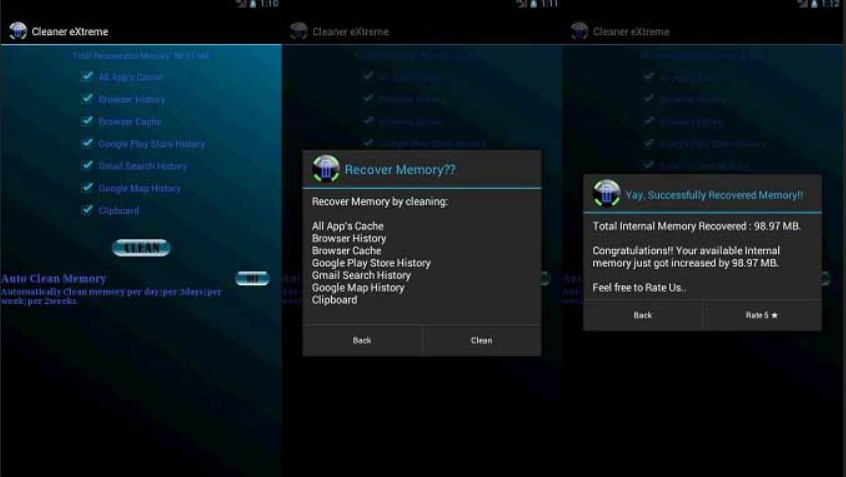 This app is perfect for anyone who is too afraid of facing app crashes or losing data because it offers your phone excellent optimization. Cleaner eXtreme will not temper with system data, but it will delete junk files very efficiently.
Pros:
There is no fear of data loss with this app, which is very easy to use.
Cons:
It is a simple app not meant for expert users.
8. CCleaner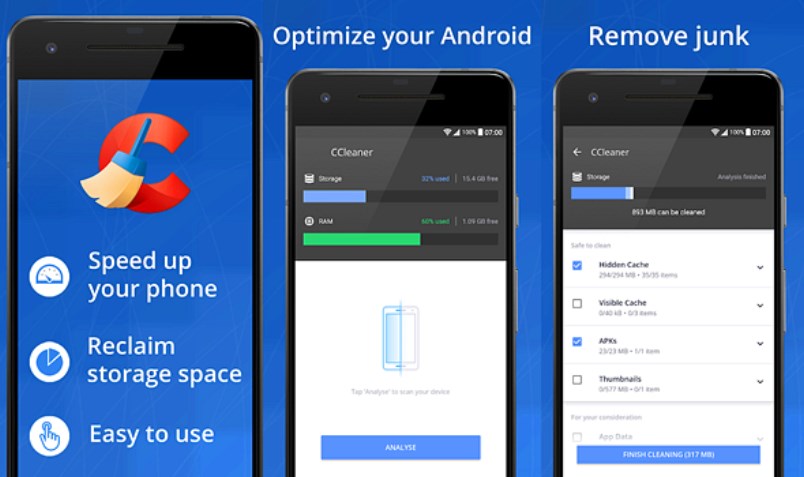 CCleaner is one of the most popular cleaner apps for computers, and it also comes in a free version for Android. This app can clean up the call and SMS log on your device. It can also make more space in the memory by deleting the files from the application cache.
Pros:
This app features battery and temperature tools, CPU, RAM and storage meters, and pp manager.
Cons:
CCleaner might be to the average for expert users.
9. Root Cleaner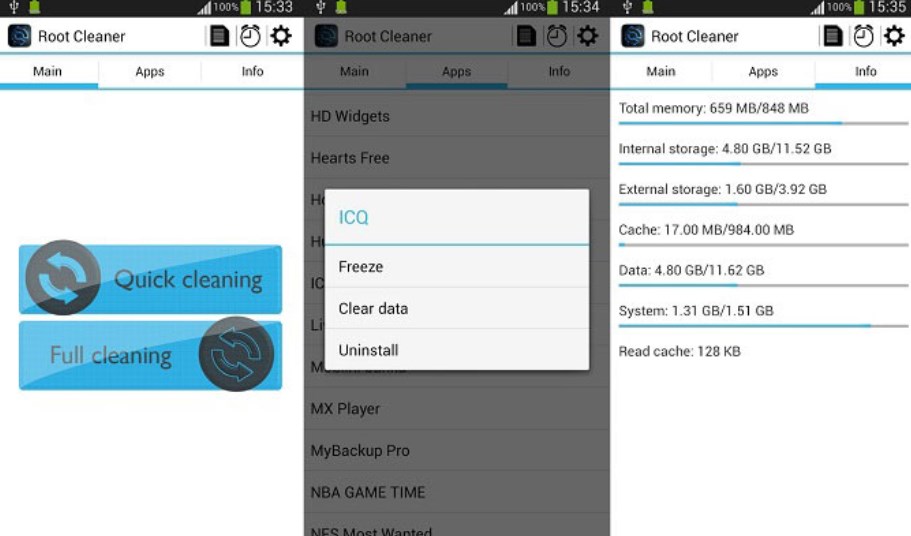 Root Cleaner is an app that requires root permission of your device in order to do a thorough cleanup.  Root Cleaner has a quick clean mode that performs basic clearing up, and a full clean mode, which cleans the dalvik cache with a system reboot requirement.
Pros:
It is much better than the average cleaners.
Cons:
This app requires root permission, and it is not free.
10. CPU Tuner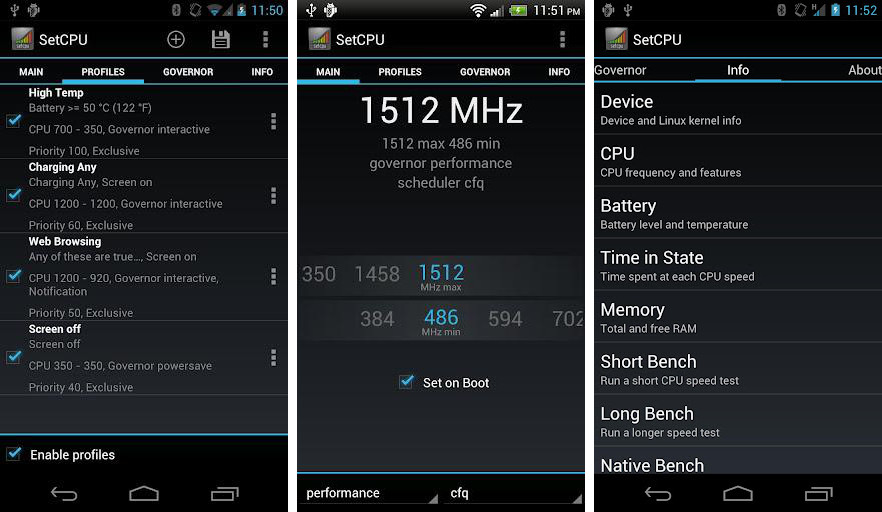 CPU Tuner is an Android application that allows you to customize the CPU settings to enhance your device's performance. However, this app requires root permission and can be a bit dangerous to use if you do not have any knowledge of Android hardware.
Pros:
This app is a perfect match for all expert users.
Cons:
CPU Tuner requires root permission in order to work.
11. 3c Toolbox / Android Tuner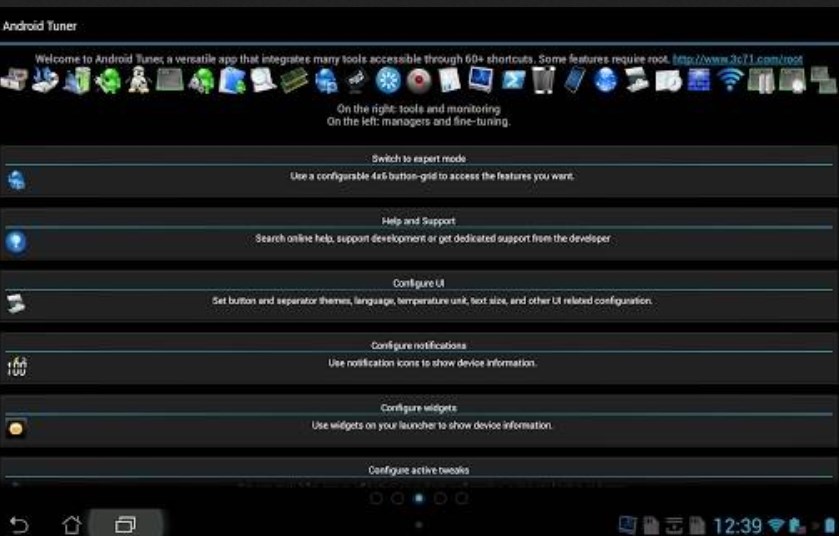 This cleaner application gives you the option of customizing the Android system settings, and it features a task manager. It is important to note that using this app without any prior knowledge can mess up your device.
Pros:
3c Toolbox / Android Tuner is the right choice for anyone who wants to explore their device's options.
Cons:
This app is only for expert users.
12. Device Control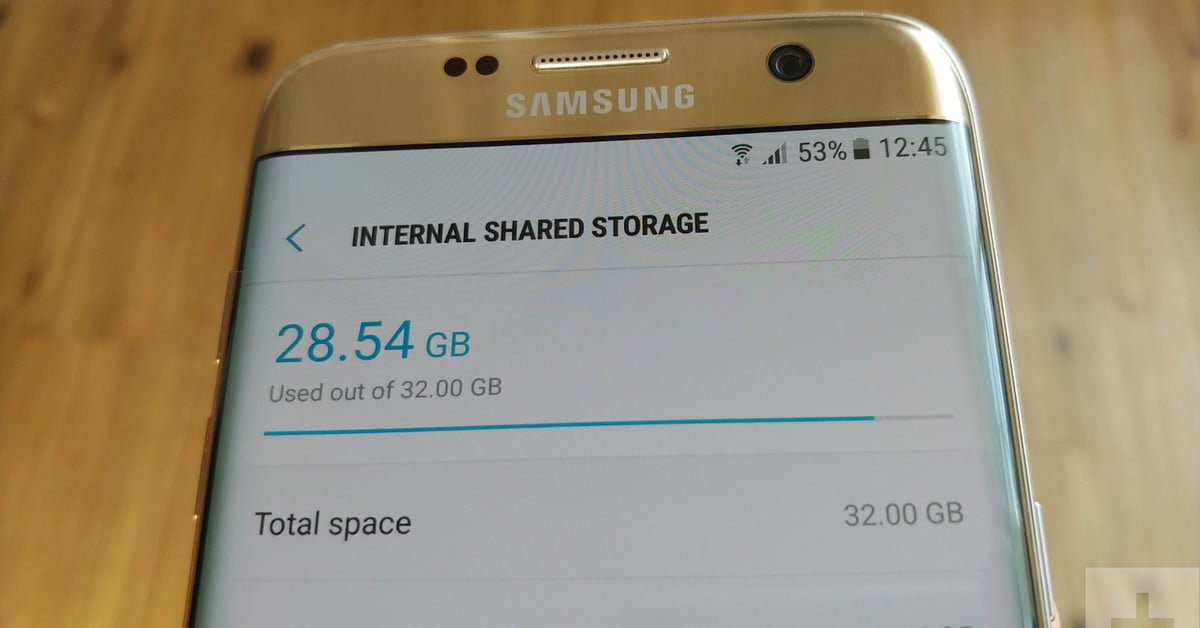 This Android app is free and is an excellent tool for cleaning your device. It features an app manager, and you can tweak the system settings with it. Device Control can be dangerous to use if you are not educated in what you are doing.
Pros:
This is one of the best apps for expert users who want to explore their device's full potential.
Cons:
Root permission is required.
13. BetterBatteryStats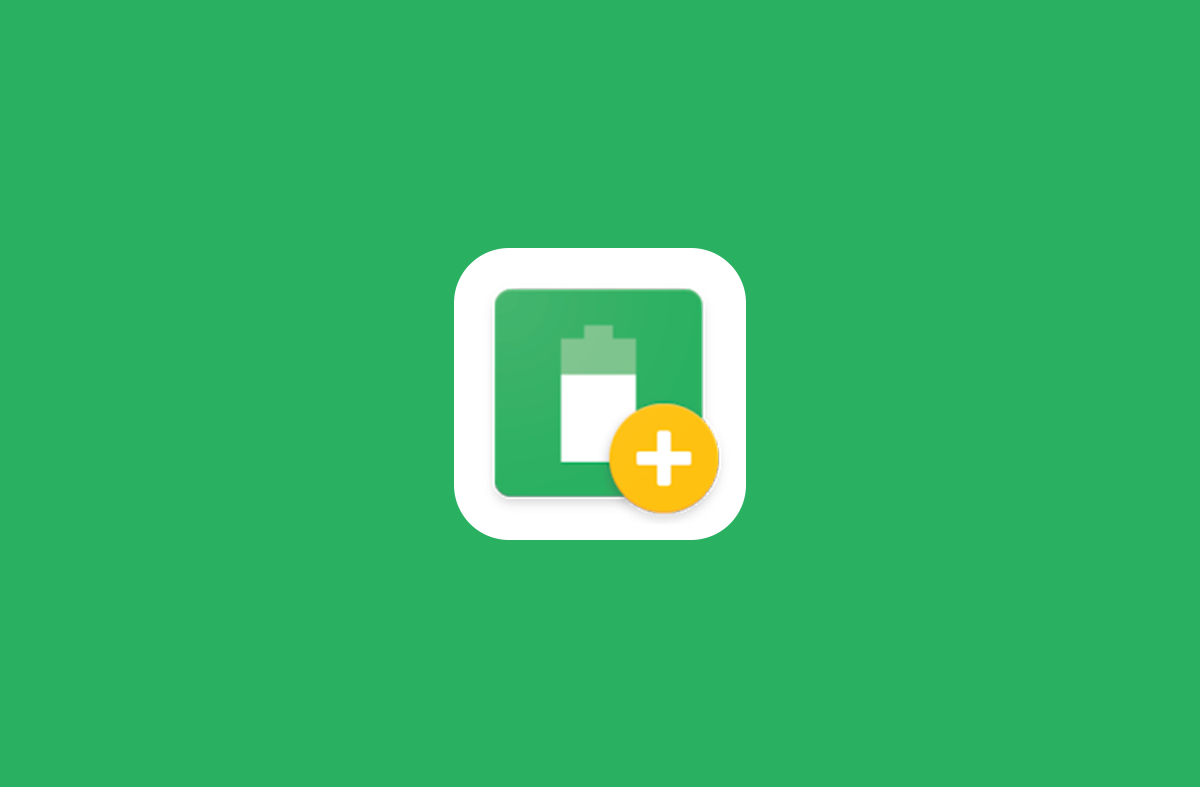 BetterBatteryStats is an application made for giving you information about your battery status. However, expert users can use this app for managing their other apps and cleaning the storage.
Pros:
It gives you information about battery drainages and fixes the issues.
Cons:
This app is made for managing the battery status, and only experts can use it for cleaning purposes.