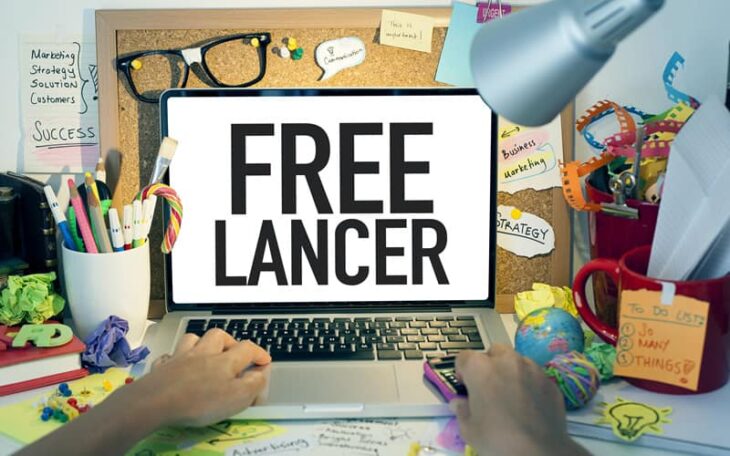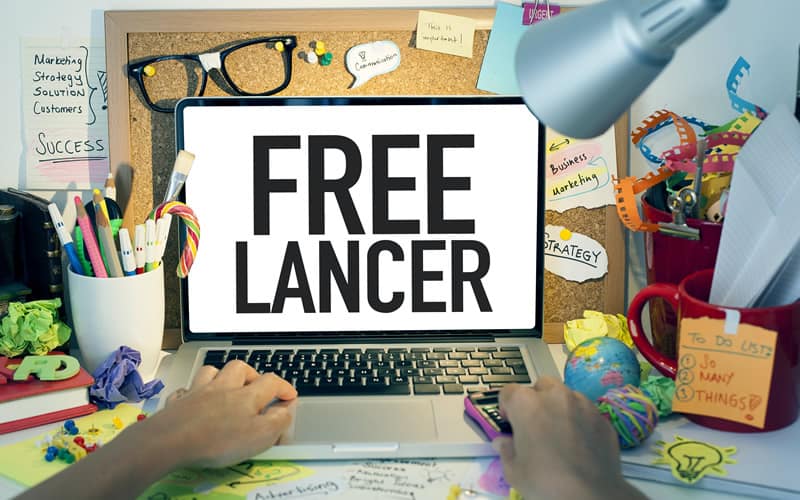 Top 3 Freelance Platfroms
As many workers are turning to freelancing, hiring highly skilled freelancers with a solid base of knowledge and expertise is more than reasonable these days especially in the field of engineering. On-demand developers are becoming extremely popular with so many online platforms being available for them to showcase their talent.
You may be surprised to find the amount of efficiency freelance developers can provide to your project. One thing freelance critics fail to see is that freelancers work on diverse projects, often times simultaneously, therefore they are mostly used to harsh deadlines, they do not have to go the typical prohibition period and most importantly getting someone to work on a certain project rather than hiring a full-time employee is financially more beneficial.
From the other side, it can be quite challenging to hire freelance developers with all the easily accessible platforms out there. We have decided to make the process less burdensome for you by listing down the three best places to find developers in 2023.
1. ItHire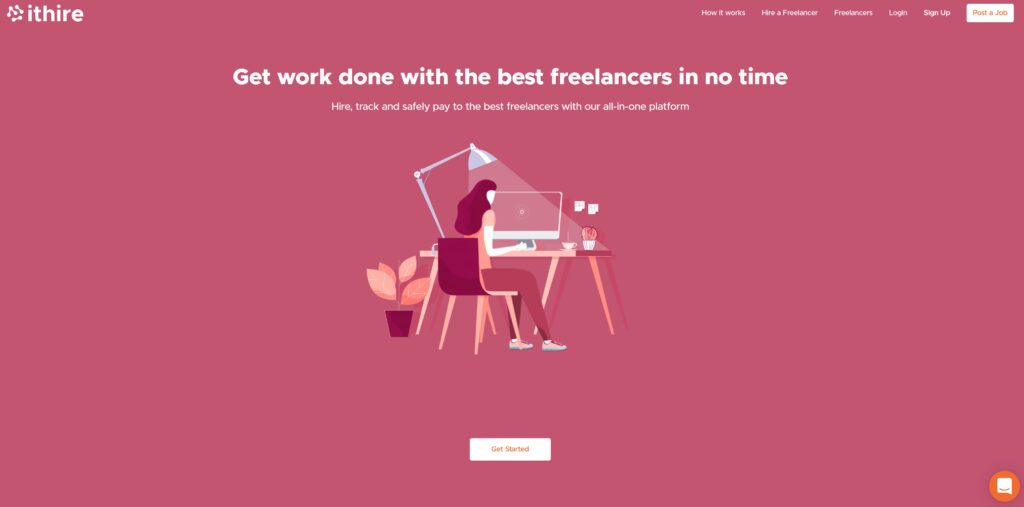 Among the best freelance platforms, I would certainly recommend ItHire designed to connect businesses to freelance developers.
The users post a job with detailed information about their project which are followed by various applications of talented freelancers. The clients can create their own tech team as ItHire also offers project managers to plan, monitor and execute their project. The secure payment system allows the clients to pay only after they review and approve freelancers' submissions which ensures that both parties remain satisfied with the project.
ItHire provides an internal tracking tool enabling clients to track their freelancer's journey. The screenshots indicate how many hours the freelancer has contributed to a certain project. Therefore, the clients can check and evaluate the work anytime they want before the final submission.
The screening process includes multiple assignments checking developers' portfolios, real-time testing, their ability to work with a team and reliability.
Pricing:
ItHire developers work at fairly affordable prices ranging between 20$ to 40%< per hour.
Pros:
Control over working procedures via internal tracking
Satisfying payment system (pay only after you review the submissions)
Free of charge project managers to execute your project
Highly professional freelance developers
Excellent customer care and service
Cons:
It may take time to find the perfect freelancer for your project, however with the project managers, users have the option to leave the hiring process to them.
2. Toptal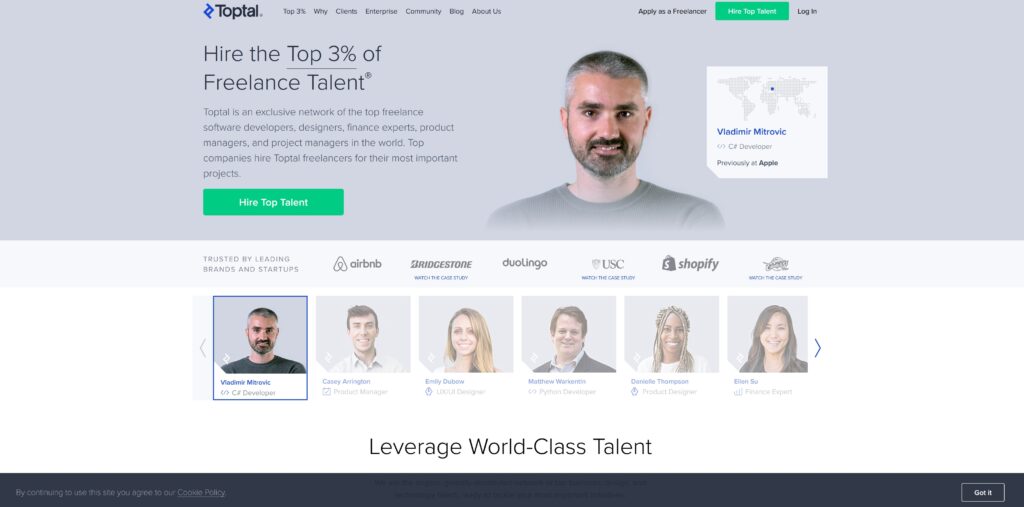 Many may claim that Toptal is the best place to find freelance professionals as it has exceeded its network beyond technology offering freelancers specialized at engineering, design, software development, product management and more. The platform presents itself as a system which offers only 3% of freelance talents.The vetting process is well-founded as developers' skills are checked in several criteria before they get access to the platform.The screening process for freelancers is highly competitive, as a result, you can find some good talent there.
The Toptal members can socialize in the platform, discuss and share their experience with others hence developing new skills. Moreover, all freelancers take English proficiency tests amid joining the platform to ensure that the communication between the clients and freelancers is as efficient as possible.
Pricing:
Toptal may seem a bit expensive for startups due to its hourly rate (80$ to 100$).
Pros:
Strict vetting process
Trial period
Highly skilled developers
Well known and reliable company
Cons:
High prices driven by high commission rates
Financially not convenient for small businesses
3. Upwork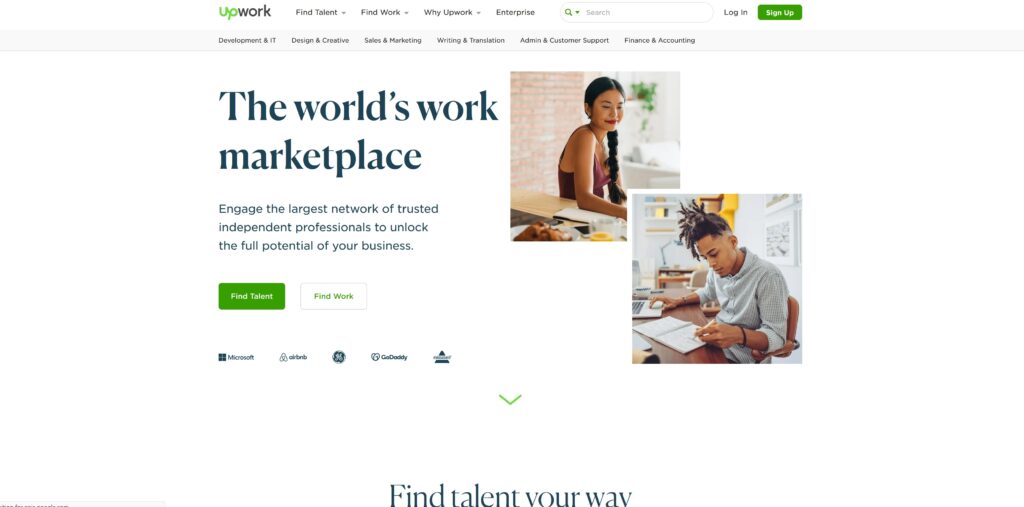 Upwork is properly one of the most famous freelance platforms in the marketplace no matter what kind of freelancer you are looking for. Founded as Elance-ODesk, the company later was rebranded as Upwork.
Upwork offers a collaborative workspace and a transparent vetting process.
Once freelancers complete their profiles, they get recommendations of ideal projects. They can also search for jobs on their own and get client invitations.
From the client's point of you, Upwork algorithms help them find the perfect match by narrowing down their search for potential hires.
Hundreds of freelance jobs are posted on the platform daily, however, keep in mind that there is also a huge audience competing for freelancers. Therefore, it will take some time until you learn how to use the platform efficiently.
Once you master all the tricks, you will effortlessly find freelance developers.
Pricing
Upwork concentrates on efficiency and affordability. The prices can range from very low (8$ ) to 100$ per hour.
Pros:
Budget-based talents
A huge number of freelance developers to choose from
Payment flexibility (pay-as-you-go)
Cons:
No vetting system
Profile management difficulties
Slow project success rates
We can all agree that sometimes the work that must be done is a one-time task rather than a routine especially in software development. In this scenario, hiring freelance developers may be the wisest thing to do.
By choosing a freelancer over a full-time worker, employers acquire some worthy benefits such as cost-effectiveness, access to top-tier talent, diversity and more.
With these three highly reconcilable freelance platforms described above, one can be sure of hiring the best freelance developers in the market who will join and have quality work done for your project.